More than Just Money for School: Joining the UWAB Family
By Manal Jmaileh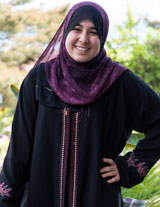 Manal Jmaileh
Being awarded such a valuable scholarship, especially in such economically trying times, would be more than sufficient for any entering university student. Enormously blessed would be far from justifying how I felt when I received my award letter.
However, as significant as the financial help was in shaping my first year, I received much more than just money from the board. From the warm meetings, cheerful smiles and encouraging e-mails that I received from the get-go, I don't think that any other aspect of my freshman year made me feel more a part of the Husky community.
The opportunity to attend many amazing events, and support and be a part of such a dignified cause was something of great value to me. As UWAB scholarship recipients, we were pretty privileged, and the board members went out of their way to honor us and make sure we felt a part of the family. Especially Janet, Jeannine and Yvonne; they were such a support for me this year, even though it was beyond what was expected of them.
It is impossible for me not to feel indebted to carry on their kindness and goodwill, for the board and for others.