Fun in the Sun: Coffee, Conversation & Scholarships in the Desert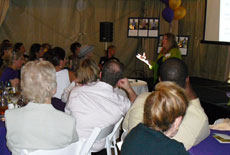 UW Professor Pepper Schwartz was the keynote speaker at this year's Coffee + Conversation luncheon in Palm Desert.
On March 15, the Desert Scholarship Patrons raised funds for nearly two full-tuition UW Alumnae Board (UWAB) scholarships at its annual Coffee & Conversation luncheon in Palm Desert. This year's luncheon featured renowned UW relationship expert Pepper Schwartz, who brought her frank and engaging presentation to more than 100 attendees at Toscana Country Club. The Coffee & Conversation luncheon is part of Dawg Days in the Desert, an annual suite of events for Huskies living in Palm Desert, Calif.
Former UWAB vice president Kay Larson, '54, and Kay de Mars, '90, lead a team of women—many former UWAB members themselves—who plan the event and its small boutique every year. Attendees can contribute by purchasing items from the boutique's vendors or making direct donations during the event. Larson is delighted to share news about the proceeds from this year's Coffee and Conversation.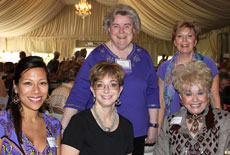 From left: Stephanie Sarkisian, DeLaine Emmert, Kay Larson, Kay DeMars and Jackie Lee Houston at this year's Coffee + Conversation luncheon in Palm Desert.
"We were so appreciative to have Palm Springs area philanthropists Jim, '55, and Jackie Lee Houston, '56, sponsor this year's luncheon," Larson says. "Their generosity made it possible for all proceeds from the luncheon to go to UWAB scholarships. We thank the current UWAB for awarding one of the 2010-2011 scholarships in their honor."
Larson is also thrilled with the turnout. "This year's luncheon drew the most attendees of our past four luncheons. We were pleased to have DeLaine Emmert, Stephanie Sarkisian, wife of the Husky football coach, and assistant coaches' wives attend the luncheon."
Missed Coffee and Conversation in Palm Desert but still want to contribute? Make a gift to the UWAB's scholarship fund now.