Support UWAB Scholarships at Fall Events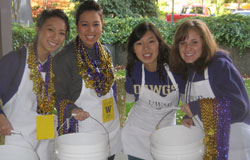 UW students and volunteers at UWAB's 2009 Tailgate Fundraiser at Husky Stadium.
In the Puget Sound area this autumn? The UW Alumnae Board hopes you will make your way to one of our fabulous fundraisers.
On Sept. 12, bring your pooch to our Dogs helping Dawgs pet fair at Marymoor Park from 9 a.m.-2 p.m. You will find lots of fabulous vendors catering to you and your pet! Head to Marymoor for a beautiful day at the park and support UWAB's full-tuition scholarships.
On Oct. 16, you can find us continuing our tradition of selling beads and spreading the word at the Huskies Homecoming football game against Oregon State. Look for the volunteers with the beads, buckets and aprons at your tailgate party, and please contribute!
In November, we will be hosting our first ever Casino Wine Night. Check www.UWAB.org this summer for more information.
As many of you know, 2009 was a challenging year for most businesses and nonprofits. The UWAB was no exception. For 2010 we have set a fundraising goal of $35,000 (that's about four full-tuition scholarships) and are hoping that our generous supporters will help us reach that goal. These amazing students need our help—and remember, every little bit helps. We look forward to seeing you this fall!