Thank You, Kathy Connors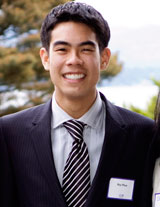 Raymond Phua is a four-time full-tuition scholarship recipient thanks to Kathy Connors' gift.
In 1999, former Alumnae Board member Kathy Connors did something extraordinary.
Connors pledged to double the number of full-tuition scholarships that the UWAB could give out each year, for the next 10 years. To that end, she gave a significant donation that covered tuition for seven of the 14 students who were receiving UWAB scholarships in the 1999-00 academic year.
Since 2000, the Alumnae Board has used funds from her generous contribution to supplement the amount of scholarships it has been able to award. Each year, students in the upper classes (sophomores, juniors and seniors) have received scholarships in Connors' name. Since 2000, more than 50 students have been granted this award. The 2009-10 school year marks the final year of the Connors scholarship.
Raymond Phua, who received a full-tuition scholarship from the UWAB for four years, says to the woman whose generosity helped him through college: "Thank you for investing in me and other motivated individuals. Your hands of assistance have linked up with ours, effectively creating and forging a chain of boundless connections. I will never forget how you have transformed my seemingly impossible dreams into a tangible reality."
Want to make a difference like Kathy Connors? Make your tax-deductible gift to the Alumnae Board now.