Fall 2008
In the Spotlight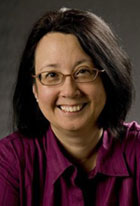 Theresa Mudrock
Theresa Mudrock Named Distinguished Librarian
Theresa Mudrock, history librarian at University Libraries, is the recipient of the first-ever Distinguished Librarian Award. She created the online exhibit, Interrupted Lives, which deals with Japanese American students at the University during World War II. Mudrock's (MOOD-rock) work sparked two stories in Columns magazine and a resolution by the Board of Regents to grant honorary bachelor's degrees to students affected by the relocation order. A UW ceremony on May 18 formally awarded these degrees. More ...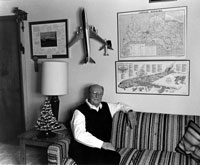 Edvins Circenis came from Latvia in 1956 to work as a Boeing engineer. He was one of the B-747 designers.
(Photo by Mary Randlett)
Mary Randlett Photos Shine Light on Seattle's Baltic Community
After attending a conference in Helsinki in 2003, Nicolette Bromberg, visual materials curator for UW Libraries Special Collections, toured Estonia, Latvia and Lithuania.
After an inspiring visit to the Latvian Photography Museum, she started to think about creating a project documenting the Baltic countries. Her result: a historical exhibit of Seattle-area Baltic residents told through portraits by noted photographer Mary Randlett, personal statements and family photos. More ...
---
News of Note

Fishing-Rights Account Earns Honor for UW Senior
Gabriel Chrisman, UW senior in History, was awarded a Library Research Award for Undergraduates with his paper, Uncompromising Activism: The Fish-In Protests at Frank's Landing. Chrisman presents a narrative history of the Native American fishing rights protests that took place during the 1960s and 1970s at and around Frank's Landing, Wash.
More ...

Common Book: The Devil's Highway
"Immigration stands among the significant matters that our community and world will face. We look forward to engaging students with the University of Washington's substantial teaching and research talent around these complex issues," says Ed Taylor, dean and vice provost of Undergraduate Academic Affairs, the department overseeing the UW Common Book project.

Taylor and Jill McKinstry, director of Odegaard Undergraduate Library, co-chaired a committee of 15 UW faculty, students, and administrators from varied disciplines and units on campus who picked The Devil's Highway, from a list narrowed down to more than 20 candidates, as this year's Common Book. More...
---
Honors and Awards
Archivist Is First Libraries Endowed Position
Tucked in the basement of Allen Library in Special Collections is University Archivist John Bolcer. He oversees intellectual access to the UW's archives, including official records and faculty papers. His work makes it possible to access a wide range of material related to the administrative, academic, legal, fiscal, social, and cultural interaction of individuals, programs and departments at the University since 1861. These records include photographs, negatives, slides, motion picture film, maps, prints, and drawings, microfilm, audio and video materials, CDs and more.
Dr. Walter L. Berg, '49, '57, established the Libraries' first endowed position in honor of his first wife, Rosemary, to provide additional funds to process and make available these historical materials. Berg understands the important role the archivist plays in the history and legacy of the University.
Gifts made during Campaign UW: Creating Futures increased the number of Libraries endowments to over 60, which will support student scholarships, digital initiatives and specific libraries.
Find out how you can support the Libraries ...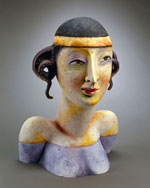 Patti Warashina's Portait #3 (Rome Series)
Libraries House Works by Chihuly, Warashina
The Petersen Room in Allen Library is home to original artwork by Northwest artists Philip McCracken, Nancy Mee and Dennis Evans. This year we welcomed work by the 2007 recipient of the Anne Gould Hauberg Artist Images Award, Dale Chihuly, and the 2006 recipient, Patti Warashina. As part of the award, artists are asked to donate a work to the Libraries.
Norie Sato, the featured artist for 2008, will give a talk at this year's Artist Images Lecture on Friday, Oct. 24. Learn more about this event ...
---
Events and Exhibits
Events
Women in Medicine
Changing the Face of Medicine Opening Gala
Oct. 10, 7 p.m.; Suzzallo Library 101
Solo performance by Linda Gray Kelley:
"A Lady Alone" depicting the life of Dr. Elizabeth Blackwell
Open to the public; pre-registration required. To register, call 206-543-7229 or send e-mail.
Health Sciences Library Open House
Oct. 14, 1– 5 p.m.
Health Sciences Library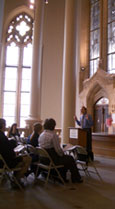 Constitution reading
UW Reads the U.S. Constitution
Oct. 10, 12 –1:15 pm
Suzzallo Library 3rd Floor
Stop by Suzzallo Library to hear all or part of the U.S. Constitution read aloud by volunteer UW students, staff and faculty. Hearing our Constitution read provides a different perspective than does reading it silently, watching a video, or clicking along on a computer screen.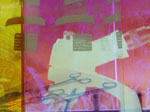 Detail from Norie Sato"s Iowa Labs A

Norie Sato: Anne Gould Hauberg Artist Images Event
Oct. 24, 7 p.m.
Suzzallo Library 101
Seattle-based artist Norie Sato will speak about her process of creating large-scale, site-specific installations and working with a variety of media. Over the past 25 years her work has included sculpture, glass, terrazzo floors, landscape, video and light.

Established in 1989, Artist Images Series has featured the works of many prominent Pacific Northwest artists. Presented in partnership with the UW Alumni Association, this free event will be followed by an informal reception with the artist. Please register online at UWAA or call 1-800-AUW-ALUM.

Madeline DeFrees

Maxine Cushing Gray Visiting Writers Fellowship Lecture
Nov. 14, 7p.m., Suzzallo Library 101
Madeline DeFrees is the author of eight poetry collections, including her two most recent books, Blue Dusk: New and Selected Poems and Spectral Waves: New and Uncollected Poems. Additionally, she's written two non-fiction memoirs recalling her nearly 38 years as a Sister of the Holy Names. Her awards include a Guggenheim Fellowship in poetry, and a National Endowment for the Arts prize. An informal reception with the author will follow this free event.

Please pre-register by sending e-mail to Libraries Development or phone 206-616-8397.

Exhibits

Opening Doors: Contemporary African American
Academic Surgeons
Through Sept. 26, Health Sciences Library T-334

Watercolors by Linda Petchnick
The Orchids of the UW Botany Department
Through Oct. 5, Suzzallo Library 102

Discover more Libraries Events and Exhibits