Welcome to the Neighborhood: Meet Dafney Blanca Dabach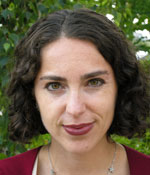 Dafney Dabach
Dafney Blanca Dabach comes to the College of Education as an assistant professor in Curriculum and Instruction. Her work will focus on her established research and teaching interests of immigration and education, with an emphasis on teachers' work with immigrant and English language learner (ELL) youth in secondary settings.
Growing up in an immigrant household, Dabach witnessed the privilege conferred upon English speakers and withheld from people who were not fluent in English, even if they spoke other languages. She especially noticed the impact of access to written English. "Particularly in this day and age, if you look at labor markets, the rise of the Internet and the changing nature of literacy, particular forms of English literacy are more consequential than ever," she explains. "The extent to which youth have access to [English], affects their future opportunities and our society as a whole." However, her interests extend beyond language to consider political issues as well, such as citizenship.
Dabach's dissertation, which was recently nominated for the Berkeley Graduate School of Education's Outstanding Dissertation Award, focused on how high school teachers adapted to immigrant-origin youth in content area courses, especially social studies. The dissertation was funded by many sources, including the University of California's Linguistic Minority Research Institute (LMRI), the All Campus Consortium on Research for Diversity (ACCORD), the Center for Latino Policy Research (CLPR) and the Spencer Foundation's Research Training Grant Program.
A crucial part of her professional experience was working on a major National Science Foundation study, the Longitudinal Immigrant Student Adaptation (LISA) study. Working with Principal Investigators Carola and Marcelo Suárez-Orozco as well as 30 other researchers, Dabach was part of a team that followed 400 recent immigrant adolescents from Mexico, Central America, China, Haiti, and the Dominican Republic as they adapted to life in the United States over the course of five years.
"Through the project, we were tracking the adaptation of immigrant students," Dabach explains. "For many of the students I worked with, it seemed that their adaptations were contingent upon their context, specifically their classroom and teacher contexts. I wanted to look more closely at teachers' work with immigrant-origin youth when I saw how interconnected students' adaptations were with the nature of what they were encountering in classrooms."
She notes that the inspiration for her research project, the Teacher Adaptation Study (TAS), was connected to her work on the LISA study: "As I followed our participants through the school day, I noticed a great deal of variation in teacher quality—the students were the same, but each teacher responded to students very differently." When teachers responded differently, so did students. "I decided that rather than focusing only on student adaptation, I also needed to investigate how teachers adapt to immigrant-origin youth, and why." She continues, "Research in school contexts is critical to understand how the mechanisms and dynamics of integration and exclusion play out within our society."
Dabach's work with California Tomorrow, a California nonprofit that advocates for immigrant youth, provided yet another outlet for her work on this issue. "I feel fortunate to have had the opportunity to work at California Tomorrow—I saw ambitious efforts to engage leadership on restructuring schools to better serve immigrant youth."
Dabach also brings professional experience from a variety of teacher education programs, including those at Mills College, University of California, Berkeley and the University of San Francisco, where she also was director of a federally funded career ladder program designed to assist bilingual aides in becoming credentialed bilingual teachers.
When asked why she chose the College of Education, Dabach laughs and says, "So many reasons! I'll have to order them for you!"
"One reason that I wanted to come to the College of Ed is that it became clear to me that teachers matter there," Dabach begins. "I was pleased that teacher education is taken seriously, that many of the faculty are directly involved with teacher education efforts…Another reason is that there is an ethos of collaboration and I think that the highest caliber work can be done within those settings. We can achieve so much more when we are collaborating with one another. This is true for research and classrooms. There is also a terrific faculty—a spectacular collection of people doing top-notch work. It is really exciting to have the opportunity to join the College of Education."
Dabach's personal interests include spending time outdoors and photography. For numerous years she has spent summers teaching darkroom photography to youth ages 8-18. When asked why she says, "there's nothing quite like engaging with youth on a creative level." She is also actively involved in integrating the arts in content areas. "Every child deserves a chance to learn in ways that inspire, unlock the imagination, and foster deep understanding."
Dabach recently contributed a chapter to Artful teaching: Learning to integrate the arts for understanding.