UWAA Official Partners
When you decide to take your business to one of our Official Partners, you can be sure that you are choosing a company that is of the highest caliber. And, by working with our partners, you are supporting a company that supports the UW. Together, we make the UW stronger.
Air Van Moving Company

For more than a decade, Air Van and its owners, the Galvagno family, have shown their dedication to the UW community. Air Van has been a major sponsor of UWAA events—including Coaches Tour, Dawg Dash and Washington Warm Ups—that raise money for student scholarships. This year, an additional scholarship opportunity was created through the Remo S. and Sheila A. Galvagno Scholarship, which offers full-year tuition to one deserving UW student. With Air Van's support, we have been able to raise hundreds of thousands of dollars for the UWAA scholarship fund.
Air Van's dedication to its customers is as strong as its commitment to student scholarships. Since its inception more than 50 years ago, Air Van has proven itself a leader in the moving and storage industry. As the official moving company of UW alumni and University of Washington Athletics, this Husky owned and operated business continues to build its history of excellence.
---
BECU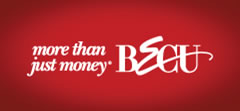 As a not-for-profit financial cooperative, BECU's fundamental responsibility is to serve its members and communities around the Puget Sound region. BECU's partnership with UW and the UW Alumni Association is a great example of the credit union's community commitment. Since 2008, BECU and UW have teamed up to raise awareness about financial responsibility with students and alumni in the Puget Sound area.
Becoming a UWAA Official Partner
The University of Washington is the largest and highest-ranked public research university in the Northwestern United States. With a focus on creating global citizens and educating tomorrow's leaders, the UW has earned worldwide respect in fields such as global health, sustainability and innovation. The UW Alumni Association can connect your business with more than 300,000 alumni—50,000 of which are dues paying UWAA members. A strong partnership with the UW Alumni Association brings your company into the UW's thriving alumni community.
To make your business a part of this exceptional community, contact the UW Alumni Association at uwalumni@uw.edu or by calling 206-543-0540.