Puget Sound Business Journal Benefit for UWAA Members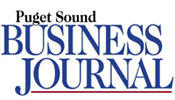 Members save more than 20% off the regular annual subscription price: thatís $73.95 for 52 issues. This deal is available by phone, email or fax.
The Puget Sound Business Journal is the region's premier source of business information. But it is more than just a news source. Itís a valuable resource, full of sales leads, information on competing companies, prospective hires and local trends.
As a subscriber you'll receive:
A weekly paper with the Puget Sound business news
Free copy of the Book of Lists, when published - a $65 value.
The Digital Edition and archives - a complete replication of the paper available online 24/7
Exclusive access to special online content available only to subscribers
Getting your discount:
To get this discount online or by phone, email or fax, use the form below to verify your UWAA membership and get the details of how to access this deal. (Need help finding your number?):
Not a UWAA Member?
Anyone can join the UW Alumni Association! Members are a community of people who love the UW. Not to mention all the perks they enjoy along with feeling great about supporting the University of Washington. Learn more member benefits and join online.