Get Daily Dining Deals Delivered to Your Smartphone with Pirq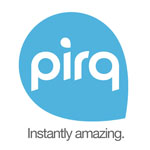 It is now easier than ever to get great deals on demand—up to 50% off!—at restaurants and cafes near you with Pirq's exclusive app for UW Alumni Association members. The offers are on your phone when you want them. No pre-paying for deals, no coupons to print out, no e-mails cluttering up your inbox, and the discount applies to your total order. Pirq's easy-to-use interface gives you premium discounts and limited-supply deals that you can use right away. View screenshot.
UWAA members get offers not available to the general public. Also, not only does Pirq find good food deals for you, Pirq will donate 10% of proceeds from UWAA member transactions to supporting the UWAA mission.
Getting started:
Create your account for the exclusive UWAA Pirq app.
Enter your 10-digit member number (insert zeroes at the beginning of your member number to get ten digits. For example, if your member number is 123456, enter "0000123456. (Need help finding your number?) :
Once your Pirq account has been created, a confirmation email will be sent to you with a link to download the Pirq app.
Watch this exclusive UWAA member tutorial and start getting great deals:
If you already have Pirq on your smartphone:
Open Pirq
Select "Settings"
Select "Add Promo Code"
Enter your 10-digit member number in the space provided.
Don't have a smartphone yet? Be sure to check out our UW Alumni Association savings with T-Mobile.
Not a UWAA Member?
Anyone can join the UW Alumni Association! Members are a community of people who love the UW. Not to mention all the perks you'll enjoy along with feeling great about supporting the University of Washington. Learn more member benefits and join online.