ParentMap Benefit for UWAA Members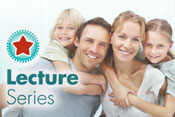 A strong family is the heart of the happy Husky home. Right now, UWAA members save $3 on admission to ParentMap Lecture Series events, which feature thought leaders from the UW and across the nation sharing insights, advice and inspiration on current parenting topics. Learn about raising resilient kids and finding more balance and less stress in family life. Use the form below to verify your UWAA membership and get the promotional code to access this benefit (Need help finding your number?):
While geared towards parents, ParentMap lectures are also well attended by psychologists, educators and counselors. In 2013, two speakers with UW connections will join an impressive slate of respected speakers:
Laura Kastner, Ph.D., UW clinical associate professor of psychiatry and behavioral sciences, will discuss adolescent brain development and parenting strategies for the unpredictable tween and teen years on Feb. 12 (see lecture description).
John Gottman, Ph.D., UW emeritus professor of psychology, will return to the series to offer his award-winning insights on "Making Love Last and Marriage Work" on May 7 (see lecture description).
Please note the UWAA discount is available for all ParentMap Lecture Series events.
Not a UWAA Member?
Anyone can join the UW Alumni Association! Members are a community of people who love the UW. Not to mention all the perks you'll enjoy along with feeling great about supporting the University of Washington. Learn more member benefits and join online.