Office Depot Benefit for UWAA Members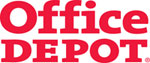 UWAA members save on selectoffice supplies, copy and print services and more. Save up to 60% (off mfg. list price) on 175 most commonly purchased items for home or office. Also, save at least 5% on most other items when you shop at any of the 1,000+ Office Depot locations across the country. Click here to view the list of items. Click here for store locator.
There are two ways to shop: online or in the store. Both options are linked to the special UWAA pricing. Members must set up an account and register their credit card first before getting the discount with Office Depot.* Both options are linked to the special UWAA pricing. With an online account you are ready to shop, and get free delivery on qualifying orders of $50 or more when placed by 5 p.m. With an in-store account, you are ready to shop with your specified credit card 48 hours after linking it into the system. Discounts will be calculated at check out.
* It will take up to 24 hours to process once you have entered your credit card information and registered with Office Depot.
Getting your discount:
Use the form to verify your UWAA membership and get the details for setting up your online or in-store account. (Need help finding your number?):
Not a UWAA Member?
Anyone can join the UW Alumni Association! Members are a community of people who love the UW. Not to mention all the perks they enjoy along with feeling great about supporting the University of Washington. Learn more member benefits and join online.