Every Dollar Helps: The Story of a Student Caller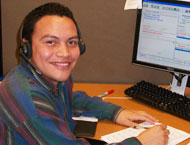 Julian Estrada
My name is Julian Estrada and I'm a first-generation college student attending the school of my dreams. My family fled Nicaragua in 1984 due to civil war. I grew up in the States surrounded by drugs, poverty and violence. It was a miracle to work my way through seven high schools while my family moved every six months. We lived in homeless shelters, state parks, government housings and dangerous neighborhoods. Overcoming these challenges, I was accepted to the University of Washington. Knowing that I would have the opportunity to attend a top school gave me a huge sense of relief and accomplishment, but it was only half the battle.
Without private support from generous donors I would not be a Husky, as it would be impossible for me to afford an education at the UW without scholarship support. That is why I am extremely proud to be a student caller for the UW Office of Annual Giving. I know firsthand the impact donations by alumni and friends make to the school and students like me. Every day I get the chance to talk friends and alumni of the university whom I can share my appreciation of philanthropy with and together I know we are making a real difference.
For almost two years now I have been a part of the UW Student Calling Program (SCP). Our team is made up of more than 70 student callers. We come from all majors across campus and from very diverse backgrounds. Being a student caller has provided me with a very unique inside perspective of the University. Each year we have speakers from the departments, schools and colleges come into our office to explain their specific fundraising needs and provide us with resources to connect and interact with their alums. Although we students come from a range of backgrounds, our enthusiasm and commitment toward philanthropy has created a unique sense of unity and understanding of how important the work we do actually is.
Working on the front lines of UW's fundraising efforts gives me an enormous sense of responsibility and pride to be a liaison between donors and the university. Student callers know that the bedrock of UW success comes from private support from our alumni and friends. Considering how little of the UW's budget is covered by state funding, we callers know that our efforts are a crucial component to ensuring that the UW can continue to provide an excellent education and engage in meaningful partnerships within the community.
Sure, asking people for money can be difficult, especially in times like these. Our motto at the SCP is that donations of every amount truly do make a difference. Every dollar donated to the UW is another dollar that will change the lives of students to provide us with resources and experiences that will shape who we become and what we can accomplish in the future.
On behalf of the past, present and future students of the University of Washington, I would like to thank you for taking the time to talk to our student fundraisers and considering to make a donation to support the programs and scholarships of the UW.