UWAA Member Benefit -
Dimitriou's Jazz Alley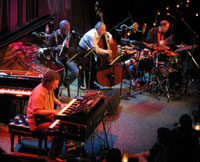 Members can get 2 tickets for the price of 1 for Friday night sets at 9:30 p.m. (or a single ticket for half-price). Advance reservations are required. (Cannot be combined with other special offers. Occasionally this deal is not available due to the contractual requirements of certain artists.)
Celebrating its 33rd year, Dimitriouís Jazz Alley is the third-longest-running jazz restaurant and nightclub in the country, after Blues Alley in Washington D.C. and The Village Vanguard in New York. Jazz Alley has earned its reputation as the West Coastís premier nightclub by bringing the greatest names in jazz, blues, soul, funk, R&B, Latin, and world music to the Northwest. Every week the club hosts world-renowned artists such as Taj Mahal, Pat Metheny, Dr. John, Branford Marsalis and Tower of Power. Past giants have left their mark as well, including Dizzy Gillespie, Oscar Peterson, Stan Getz, Betty Carter, Ray Brown, Eartha Kitt and Lionel Hampton.
How do I get this? Access this deal by phone. Use the form below to verify your UWAA membership and get the promotional code to mention when you call. (Need help finding your number?)
Not a UWAA Member?
Anyone can join the UW Alumni Association! Members are a community of people who love the UW. Not to mention all the perks you'll enjoy along with feeling great about supporting the University of Washington. Learn more member benefits and join online.