Give the Gift of Membership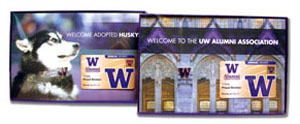 If you know somebody who loves the UW, you know somebody who will love UWAA membership!
When you give a membership, you give fun UW member experiences, access to UW libraries and select online journals, ticket discounts and pre-sale opportunities for lectures, arts and sporting events, and all sorts of benefits that connect your Husky friend to the UW and the Pacific Northwest, wherever they live. The Husky in your life will also love that your purchase was a tax-deductible gift that goes to support the University they care so much about.
Gift memberships come in an attractive purple box with a membership card, W lapel pin and other Husky goodies. We will ship anywhere in the U.S. for free.
P.S. You don't have to be an alum to love the UW. You don't have to be an alum to stand with the UWAA in its mission to support the UW and higher education in Washington. We welcome all loyal Huskies, whether or not they graduated from the UW.
Not sure if your friend is a member?
Call us at 206-543-0540 to check your friend's status.
Not a Member?
Click Here to join the UW Alumni Association today!