UWAA Member Benefit - From You Flowers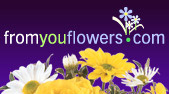 UWAA members save 25% on all regularly priced From You Flowers floral and gift items purchased online or by phone. To receive this discount, simply verify your membership below and proceed to the customized site for UWAA members.
Choose from over 2,000 gift items like the From You Flowers bouquet of roses, voted as a CBS Morning Show "Best Value," or select any florist designed arrangement, all available nationwide for same day delivery. Your 25% member discount is also valid on the entire new line of award winning cookies, cakes and brownies (Good Housekeeping magazine's "10 Best Mail-order Goodies for Giving or Serving").
From You Flowers is the largest privately owned online retailer of flowers and gifts in the U.S. and works with over 50,000 florists to offer same day delivery in 140 countries around the world. From You Flowers is the industry leader on customer service and backs your order with a 100% product and service guarantee. Make someone smile today—send flowers!
Getting your discount:
Use the form to verify your UWAA membership and begin shopping (Need help finding your number?):
Not a UWAA Member?
Anyone can join the UW Alumni Association! If you order a few game tickets, you'll more than pay for the cost of an annual membership. Not to mention all the perks you'll enjoy along with feeling great about supporting the University of Washington. Learn more member benefits and join online.