EMP Museum Benefit for UWAA Members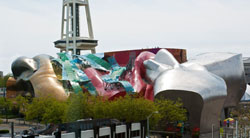 There's no other museum like EMP on earth.
Whether your passion is robots, Rock 'n' Roll photography, The Muppets, or Michael Jackson, EMP has you covered. Hands-on experiences, iconic artifacts, in-depth exhibitions, the Science Fiction Hall of Fame, and a treasure trove of provocative videotaped oral histories with luminaries in the fields of music, film, and science fiction make EMP a destination unlike any other.
UWAA members save on both memberships and single-day admission tickets.
Getting your discount:
The individual tickets discount is available online, and the membership discount is available both online or in person at the museum. Use the form below to verify your UWAA membership and learn how to access the member discounts. (Need help finding your number?):
Not a UWAA Member?
Anyone can join the UW Alumni Association! If you're like the typical cell phone user, you'll more than make up the cost of an annual membership with the savings on your phone bill. Not to mention all the perks you'll enjoy along with feeling great about supporting the University of Washington. Learn more member benefits and join online.