UWAA Member Benefit -
Airlift Northwest

With its rugged mountains and beautiful islands, the Pacific Northwest is such an amazing place to live and play. However, what happens if you or your family member get seriously injured in an area far from a hospital?
Your physician or response team may determine that medical transportation by air is necessary. Many insurance plans do not provide full coverage for transport services. UW Medicine's Airlift Northwest covers your out-of-pocket air transport expenses through the AirCare Program.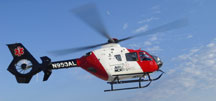 UW Medicine's Airlift Northwest program is proud to offer our members in Washington and Southeast Alaska a discounted annual membership for the AirCare program: $69 for Washington residents and $89 for SE Alaskan residents ($10 off the regular price). Learn more about Airlift Northwest.
Getting your discount:
Use the form to verify your UWAA membership and learn more online about Airlift Northwest. (Need help finding your number?)
Not a UWAA Member?
Anyone can join the UW Alumni Association. Members are a community of people who love the UW. Not to mention all the perks they enjoy along with feeling great about supporting the University of Washington. Learn more about member benefits and join online.