Join your classmates for fun, memories and tradition at reunion festivities all through 2014. This special reunion year coincides with the UW Alumni Association's 125th anniversary and will be an ongoing celebration of your enduring Husky spirit!

Stay tuned for details about upcoming events throughout the year that will include special recognition for the class of 1964. This page will be updated as new information becomes available, so please check back!
Schedule of Events: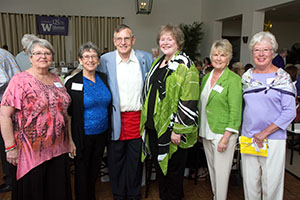 Class of 1964 members at the Desert Scholarship Luncheon
Desert Scholarship Luncheon • March 17, 2014 • Palm Springs, CA
The class of 1964 kicked off their 50th reunion year with a recognition at the Desert Scholarship Luncheon, part of Dawg Days in the Desert. Read all about it in the Desert Sun.

Regional BBQs
Huskies in New York, D.C. and Los Angeles will recognize the class of 1964 as part of their annual summer BBQs in June of 2014. Learn more.
NY Salmon BBQ • June 21, 2014
DC Dawgs Salmon BBQ • June 22, 2014
Bay Area Salmon BBQ • August 9, 2014
LA Salmon BBQ • August 10, 2014

Reunion Dinner • October 23 • UW Seattle Campus
Besides a catered social hour and gourmet dinner, hear from Dr. Christian Sidor, paleontologist at the UW, as he shares behind-the-scenes facts and anecdotes regarding this year's South Lake Union unearthing of the c. 20,000 year-old mammoth tusk, now on display at the Burke Museum. Also, enjoy a performance from the Husky Pep Band! See complete reunion schedule and register.
Who's coming?
The following Class of 1964 grads will be attending the reunion banquet! Let us know if you'd like your name added to the list.
Sandra (Cadagan) Carlson
Joan (Walton) Griffith
James Gullickson
Edwin Hutsell
Kay Menaul Ringel
Rosalind (Benaroya) Poll
Marsha Mays Rayton
John Strauss
Lauray (Knudson) Stupey
W Day • October 24, 2014 • UW Seattle Campus
Celebrate the UW's 153rd birthday and keep the purple and gold tradition going strong. Join your fellow Huskies on campus, online and in the community for W Day!

Engineering Luncheon • October 24, 2014 • UW Seattle Campus
More details coming soon! For information contact Jessie Muhm, jmuhm@uw.edu, (206) 685-7748.
School of Nursing Tour and Luncheon • October 24, 2014 • UW Seattle Campus
Join us for a guided tour of our research and simulation labs and a hosted luncheon with current nursing students. For more information and to register, please visit the nursing reunion homepage or contact Lauren Johnson at ljohn523@uw.edu or 206.221.4717.
Homecoming Football Game • October 25, 2014 • UW Seattle Campus
Come cheer on the Huskies as they take on the Arizona State Sun Devils at Husky Stadium.
Interested in attending a pre-game tailgate with your classmates? Contact Vira Danh at viradanh@uw.edu.
Arboretum Tree Tours and Weekend Walks • All month • UW Arboretum
Take in the fall foliage through the free, self-guided Arboretum October Tree Tour, or join a group for a Weekend Walk every Sunday at 1 p.m. For more information, please contact the UW Botanic Gardens at uwbgeduc@uw.edu.
Class Gift
The Class of 1964 celebrates UW's commitment to academic excellence, leadership and citizenship by encouraging donations to all areas, including the Class of 1964 Research Fellowship to support UW researchers studying the South Lake Union Mammoth tusk. Please join your classmates in making the most of your 50th Reunion year by giving to the school or department of your choice. Make a gift today!
Thursday, Oct. 23 through Sunday, Oct. 26, members of the Class of 1964 (and one guest) enjoy free admission to view Lulu at the Burke Museum.
For more information on the discovery of "Lulu," the South Lake Union Mammoth tusk, please visit Lulu's homepage or the Burke Museum online.
Submit a Class Note to Columns Magazine
Tell us what major events have happened in your life: grandchildren, retirement, advanced degrees, etc. Send an email to columns@uw.edu.
If you are interested in joining the reunion planning committee, please email Liani Swingle (swingle9@uw.edu), or call (206) 543-0540.