Bill Gates Sr.
By Tom Griffin
From Columns, September 2004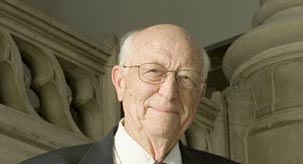 The University of Washington weaves through the life of William H. Gates Sr. like a thread of purple and gold. He earned both his B.A. and his law degree here in 1949 and 1950, he met his first wife-Mary Maxwell Gates-here, and one of his three children is an alumna. His wife served as a regent for 18 years and his son used to sneak computer time on UW mainframes when he was in high school. Later that son, Bill Gates, and his high school friend Paul Allen, would found Microsoft. Gates Sr. now serves as co-chair of the Bill and Melinda Gates Foundation and has been a UW regent since 1997. Many awards have been bestowed on Gates Sr. for his five decades of public service. At an age when many men and women would retire-he is 78-he is leading another civic mission as chair of "Campaign UW: Creating Futures," the largest fund-raising effort ever attempted in the Pacific Northwest. The UW hopes to raise $2 billion over an eight-year period. In an exclusive interview with Columns Editor Tom Griffin, Gates Sr. explores his many UW ties.
Was the UW the only place you considered for college?
GATES: It was the only place.
You grew up in Bremerton, where your dad owned a furniture store. You graduated from Bremerton High in 1943 and came to the UW. How long were you a student before you entered the military?
GATES: I was here for one year-the school year of 1943-44-and went into the service in June of '44.
College was an expensive proposition in 1943 for a family, wasn't it?
GATES: It was expensive, but I think that tuition was really very modest as a matter of fact. I wouldn't be surprised if it was in the $50 neighborhood. But on top of all that, there was room and board and books. It was significant, but I was a child of a distinctly middle class family and my father had a business and a reasonable income.