Bonnie Dunbar
By Jon Marmor
From Columns, June 2004
At the age of 10, she was hit in the eye with a baseball but refused to come out of a game. When she enrolled in ceramic engineering at the University of Washington in 1967, some professors tried to talk her out of it because it was "not a field for women."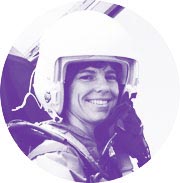 When she first applied to be an astronaut, she was turned down.
Like that had any effect on Bonnie Jeanne Dunbar, '71, '75.
"I just don't see obstacles," Dunbar says matter-of-factly. "I see challenges. I like solving problems."
So it's no surprise that the young girl who grew up herding cattle and repairing fences on a 40-acre cattle and wheat ranch in the central Washington town of Sunnyside made good on the dream she had when she was 13. She indeed became an astronaut.