History of the UW Alumnae Board
In 1909, the University of Washington awarded a $100 scholarship to Carrie Cowgill, a junior at the time and the school's first female recipient of a UW scholarship. This made a lasting impact on Cowgill, a native of Eugene, Ore., who was working her way through school with a student job at Suzzallo Library. She decided she would return the favor and give back to other students when she could.
Cowgill, who graduated in 1910 and in 1911 married Dr. Albert Thompson, spoke with many of the UW women who had received scholarships and loans over the years. She asked for contributions, and in 1946 established a scholarship fund on their behalf. That was the beginning of the UW Alumnae Board, then a six-member board whose first president was Cowgill Thompson's daughter, Lucile.
Today, more than 60 years after Cowgill Thompson founded the UWAB, more than 800 scholarships have been awarded and more than $1.2 million has been raised. Since 1979, UW men as well as women have received UWAB scholarships. Recipients are selected on the basis of financial need, scholastic achievements, leadership, community service, and a demonstrated strong work ethic.
Find out more about UWAB scholarships.
The UWAB was the first organization from the UWAA to award full-tuition scholarships to UW students. In 2004, it was granted Laureate status by the University of Washington for having raised more than $1 million for student scholarships.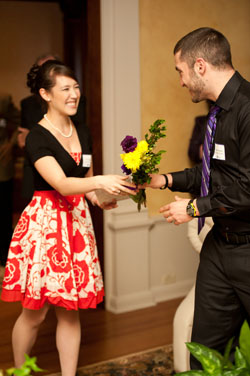 Scholarship Chair Rica Mackert recognizes Galvagno Scholarship recipient Guillermo Romano at the 2013 Rhododendron Tea
Your continued support helps us meet our scholarship goals and furthers the world-class education of many promising UW students.
Make a gift today in support of the UWAB!
"Changing Lives, One Scholarship at a Time."