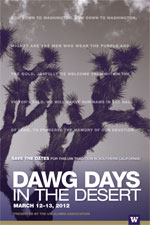 Join the University of Washington Alumni Association for Dawg Days in the Desert, a beloved UW tradition taking place March 12-13, 2012.
Enjoy the popular Desert Dawgs Golf Tournament or hear from notable UW faculty at the annual Coffee & Conversation scholarship luncheon. University of Washington President Michael K. Young will highlight the 23rd annual Chow Down to Washington banquet. Eat, drink and celebrate the UW with fellow alumni and friends!
Note to attendees: Please be sure to move your clocks forward one hour for daylight savings on Sunday, March 11.
Lunch and Learn in the Desert with UW College of the Environment
When: Wednesday, March 07, 2012
Kick off your Dawg Days in the Desert with a fascinating look into the world of predators and their prey. Learn how predators strike fear into their likely victims and what prey animals do to keep from becoming the main course. Join Professor Wirsing as he discusses the fascinating world of predators—in particular sharks and wolves—and how the ecology of fear influences the behavior of their potential meals.
Cost: $10
20th Annual Desert Dawgs Golf Tournament
When: Monday, March 12, 2012
Where: Indian Wells Golf Resort, 44-500 Indian Wells Lane, Indian Wells, Calif. (map)
Hit the tees with fellow Huskies at Indian Wells Golf Resort's world-class Players Course, named one of the "best public golf courses in California" by Golfweek. Price includes continental breakfast and lunch.
Cost: $205 UWAA Members; $245 Non-members
7th Annual Coffee & Conversation
When: Monday, March 12, 2012
Where: La Quinta Country Club, 77-750 Ave. 50, LaQuinta, Calif. (map)
Join the Desert Scholarship Patrons for boutique shopping, a silent auction, and lunch at the beautiful La Quinta Country Club with Nate Miles. Nate Miles will share personal, inspirational stories of the power of higher education to transform lives. This event is in direct support of UW student scholarships.
Cost: $65 UWAA Members; $75 Non-members
Directions: Coming from Palm Desert on Highway 111, turn right onto Washington Street and go to Eisenhower Drive, turn right. Continue on Eisenhower Drive to Avenue 50, approximately 1.3 miles, turn left onto Avenue 50 and immediately turn left into the La Quinta Country Club. There will be both self and valet parking. Look for the purple and gold balloons.
23rd Annual Chow Down to Washington
When: Tuesday, March 13, 2012
Where: Hyatt Grand Champions Resort Villas and Spa, 44-600 Indian Wells Lane, Indian Wells, Calif. (map)
University of Washington President Michael K. Young will highlight the 23rd annual Chow Down to Washington. Eat, drink and celebrate the UW with fellow alumni and friends!
Cost: $85 UWAA Members; $100 Non-members