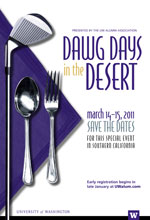 You're invited to Dawg Days in the Desert, March 14-15 in beautiful Southern California.
Play golf at the world-famous Golf Resort at Indian Wells. Hear from renowned cosmetic and medical dermatologist Dr. Brandith Irwin, '84. And gather with fellow alumni and friends at the Chow Down to Washington banquet featuring UW Interim President Phyllis Wise and Husky football coach Steve Sarkisian.
It's a UW celebration you won't want to miss.