UW Alumni Authors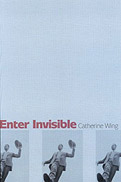 Enter Invisible
poems by Catherine Wing, '04
Sarabande Books, 2005
$13.95 (paperback) at the University Book Store

Buy this book online at University Book Store
Wing's debut was nominated for the Los Angeles Times Book Prize.
In the beginning God, unaccompanied,
And unmanned, made light.
Adam as yet unimagined.
Then the world unwound
From heaven. The day unbuttoned
From the night. The sea unearthed
And the earth unfastened
The grass and the trees unhusked
Their seeds. Adam unhastened.
— From "Paradise-Un"