UW Alumni Authors

Gilead
by Marilynne Robinson, '68, '77
Farrar, Straus and Giroux, 2004
247 pages; $18.40 (cloth) at the University Book Store

Buy this book online at University Book Store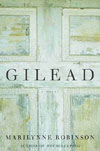 Gilead was indisputably the novel of the year in 2005, winning both the Pulitzer Prize and the National Book Critics Circle Award. Yet to call it that is almost to understate its significance. And while it may be too early to declare Gilead "the novel of the quarter-century," that is how long Robinson's admirers—who are legion—have been waiting for it. In a recent New York Times Magazine cover story on Robinson, Meghan O'Rourke described the publisher of Farrar, Straus and Giroux dropping by the office of its founder to share news of the manuscript's arrival. "F.S.G. has published many Nobel laureates," O'Rourke wrote, "and the arrival of a book from a well-known writer is not an extraordinary occurrence. But Galassi leaned in and said: 'Do you know what I have in my hands? A new novel by Marilynne Robinson.'"
Robinson earned such reverence with Housekeeping (1981), her only other novel, which she began writing while a Ph.D. candidate at the UW. In clean, spare sentences, she told the story of two sisters and their near-estrangement from a world that had been extraordinarily unkind to them. Writing for the New York Times, Anatolye Broyard called it "a first novel that sounds as if the author has been treasuring it up all her life." On the strength of this single, slim book, Robinson came to be widely regarded as the preeminent American fiction writer of her generation.
But she would take 23 years to answer the calls for an encore—content to wait for the right story to suggest itself. Wanting to write a book, she told O'Rourke, is a very different thing from having a book you want to write. Gilead is an epistolary novel, composed of letters from a father to a son. The father, John Ames, is in his seventies and terminally ill; the son, only seven. Robinson admirably rises to the challenge inherent in the form she has chosen, producing gorgeous prose that seems, nevertheless, to have come from the pen of a small-town preacher and not a Pulitzer Prize-winning virtuoso. "Why do I love the thought of you old?" Ames writes. "That first twinge of arthritis in your knee is a thing I imagine with all the tenderness I felt when you showed me your loose tooth. Be diligent in your prayers, old man. I hope you will have seen more of the world than I ever got around to seeing—only myself to blame. ... And God bless your eyes, and your hearing also, and of course your heart. I wish I could help you carry the weight of many years. But the Lord will have that fatherly satisfaction."