UW Alumni Authors
Lauren Kessler, '80
Dancing with Rose: Finding Life in the Land of Alzheimer's
By Lauren Kessler, '80
Viking, 2007


Buy this book online at University Book Store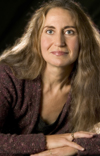 An excerpt from this, Kessler's fifth book of narrative nonfiction, appeared in the June issue of O, The Oprah Magazine.
Excerpt:
"When lunch comes, I struggle again to get the right plates to the right people. I check and recheck the dietary list. I stare at Addie, then Old Frances, then back to Addie, still confused. Once I figure out who's who, I'm still confused. Is the lady I'm calling Old Frances, Frances C or Frances M? I better not confuse them. Their dietary needs are quite different. I went through this just four hours ago at breakfast, but my mind's a blank. Why can't I keep this straight? Am I starting to have memory problems? This is, of course, not the first time I've had this thought. Every child of a parent with Alzheimer's secretly fears that there is a bad gene at work, a gene that's been passed on and lies in wait, ready to switch on the machinery of dementia when the time is right.
I know that early-onset Alzheimer's, a rare disease that hits a person in her fifties, or even forties, has a strong genetic link. But my mother's disease, coming in her seventies, was of the garden variety, the one that must be caused by something but no one knows what. If genes are implicated, the link is weak. Still, I wonder when my mother first suspected something was going wrong. Was she as young as I am now?
After lunch I am allowed a ten-minute break. Most of the other RAs spend their breaks and the thirty unpaid minutes we are allowed for lunch sitting outside, in an area behind the facility hidden by a tall fence, on sticky white plastic chairs where they chain smoke and talk about their no-good boyfriends. I decide to take a pass. I grab my insulated Starbucks mug and get hot water from the kitchen to make a cup of tea. I brought the teabag from home, new fancy green tea I tried last month when my husband and I were at a spa resort. The box of fifteen teabags cost more than I make here in an hour. I sit on a Naugahyde banquette in the atrium massaging my legs and sipping tea.
I'm sure I can learn something from this place and these people, but I'm not sure what. I hope I have the strength and the stamina – physical and emotional – to stick around and find out. Right now it's all I can do to learn the job. I realize sitting here, six hours into my first day of on-the-job training, that I am no longer who I was just yesterday at orientation. I am not a reporter playing a role to get a story. I can't be. The work is too hard, too all-consuming. Helpless people depend on me. Here at Maplewood I am a caregiver, an RA like the other RAs, with a magnetic name tag clipped to my uniform shirt, with a walkie-talkie and a green half-apron stuffed with latex gloves. My job, for eight hours, is to care for people who can no longer care for themselves, who may no longer be themselves. My job is to be the good daughter.