UW Alumni Authors
David Guterson, '78, '82
The Other
By David Guterson, '78, '82
Knopf, 2008


Buy this book online at University Book Store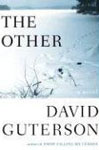 In his acclaimed new novel, Guterson chronicles the friendship of Neil Countryman, a husband, father, and high school English teacher, and John William Barry, the scion of a wealthy Seattle family who renounces modern American life and goes into the woods.
EXCERPT:
Then, on the back stretch, the runner in seventh tries to pass me, too. To anybody watching we're in a pointless and even pathetic battle between losers, but for me what's happening feels critical. Against good tactical judgment—it's a move that slows you—I indulge in another assessment of an opponent: like me, long-haired; like me, in earnest; like me, goaded forward by, the word might be, convictions. In other words, this runner is approximately my doppelgänger.
Ask any track coach. The half-mile is a race for unadulterated masochists. Neither a sprint nor a distance event, it has the worst qualities of both. It's not a glorious race, either. A lot of people can name a sprinter or two—Carl Lewis, for example—or a famous miler like Roger Bannister, but can very many name even a single half-miler? No athletic romance attaches to the half-mile. It's not a legendary or even notable feat to beat other runners over 880 yards. At track meets, the half-mile contest is somehow lost between more compelling competitions, an event that unfolds while fans thumb their programs or use the bathroom. Into this gap of a race, this sideshow, step runners in search of a deeper agony than they can find elsewhere. They want to do battle with suffering itself. It's the trauma they want, the anguished ordeal. It's the approximately two minutes of self-mortification or private crucifixion. All half-milers have a similar love of pain. So this race is an intimation and an opening. In two minutes' time, you get a glimpse.
I do, on the afternoon I'm telling about. There's a kind of synchronicity that can happen in a running race, and it happens now. We run in tandem, my near doppelgänger and I. In running parlance, we match strides. I'm measuring him, as he, no doubt, is measuring me—all the while throwing ourselves forward into fresh pain, so that there are two perceptions, pain and the close presence of another agonized half-miler. In parallel this way, and canceling each other out, we're neither of us ahead or behind for maybe forty-five seconds. That's an unusually long time to run neck and neck in the 880. I'm oxygen-deprived, so everything looks well lit and startling, and from this perspective I see what I probably wouldn't see otherwise. This guy, right here, running next to me, is a version of me. We both feel, romantically, that our running is transcendent. How do I know this? From running alongside him. I also have the benefit of hindsight.
Thirty-four years have passed, but I still remember how, in the final five yards, my double frees himself—like a shadow in a cartoon or a mirror-figure in a dream—and beats me by three-quarters of a stride.
I'm bent over and spent, my hands on my knees after the race, breathing hoarsely and looking at the ground, when he comes over to shake my hand with what I think at first is a grating sincerity. The grip is vigorous. The expression is heartfelt and, post-race, ruddy. The stance is upright, the posture exclamatory. This is gracious victory personified, and for a moment I think—it says Lakeside on his jersey—that what I'm seeing is obligatory patrician good manners, a valorous lad with his cursory and vapid Victorian Well done! while his heaving breath subsides. But no. He's just fiercely putting forward what he feels—he's honest. There's a sentiment to be noted, life is short, and he doesn't want to just pass by. "Thanks for the push," John William declares, between bouts of sucking wind. "I just about died."
That's how I met the privileged boy who would later become "the hermit of the Hoh"—as he's been called by the Seattle newspapers this spring, in articles mentioning my name, too—that loner who lived in the woods for seven years and who bequeathed me four hundred and forty million dollars.