UW Alumni Authors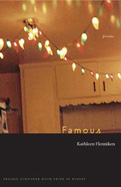 Famous
poems by Kathleen Flenniken, '88
University of Nebraska Press, 2006
$17.95 (paperback) at the University Book Store

Buy this book online at University Book Store
Flenniken, who holds a master's in civil engineering from the UW, received the Prairie Schooner Book Prize in Poetry from the University of Nebraska Press for this first collection.
He plants palm fronds in a sentence
and lets them blow a warm trade wind
from his lips. She feels the heat,
tucks in every verb and smoothes
her sentences, folds them as neatly
as linen napkins, accordion-pleats them
for a touch of style.
— From "Conversation with a Sensualist"