UW Alumni Authors
Charles R. Cross, '81
Room Full of Mirrors: A Biography of Jimi Hendrix
By Charles R. Cross, '81
Hyperion, 2005


Buy this book online at University Book Store
Excerpt from the book: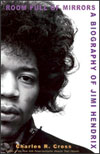 "Hendrix's tenure with Little Richard produced some of his favorite road stories, which years later he would revel in telling, imitating Richard's shrill voice as he did so. One tale was of a night Jimi, tired of the band's uniforms, wore a satin shirt. After the show, he was berated for his insolence and fined by the bandleader. 'I am Little Richard,' Richard shouted, sounding like a preacher again. 'I am the only Little Richard! I am the King of Rock and Roll, and I am the only one allowed to be pretty. Take that shirt off!'"
"Garland feared that if the bio listed every one of the dozens of bands Jimi had played with, journalists might think it was bogus. But press bio or not, the very boots on his feet told the story of Jimi's years of struggle. 'When you saw the soles on those things,' Garland observed, 'they were completely worn through.' Not only were his shoes old, they were decidedly out of fashion. 'He had these winker-pinker black boots with zippers on the sides,' Noel Redding said. Some thought that the worn-out soles were what caused Jimi's curious gait, but even after he bought a pair of stylish size-eleven Cuban boots with square toes, the usual pigeon-toed walk remained. 'You could tell by the way he walked that he had had the wrong-sized shoes on as a kid, and that his gait was all screwed up,' observed Eric Burdon."