UW Alumni Authors
Linda Bierds, '69, '71
Flight: New and Selected Poems
By Linda Bierds, '69, '71
Putnam, 2008


Buy this book online at University Book Store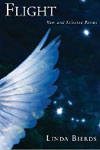 A major gathering of new and old poems from the UW alumna, professor of English and MacArthur "genius grant" winner.
EXCERPT:
Imagine a white horse, alone in a watery meadow.
Or, alone in a watery meadow, imagine
a white horse. The latter increases your need for me,
your relief in my company, as we walk together
down the story's thin lanes, circling the meadow
and lolling horse, and the gondoliers on the landing
bicker and smoke and shuffle their soft-backed cards.
We have, you as my character and I as your guide,
crossed from Venice on the wide lagoon—
rib-cage deep but for trenches the ships slip through—
and we look toward it now, as one by one
its spires sink through a white fog, that, like your need,
advances.
— From "From Campalto"