UW Alumni Authors
Bert Bender, '59
Catching the Ebb: Drift Fishing for a Life in Cook Inlet
By Bert Bender, '59
Drawings by Tony Angell, '62
Oregon State University Press, 2008


Buy this book online at University Book Store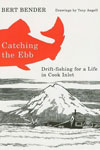 Bender vividly and lovingly recalls the 30 summers he spent gill-netting for salmon in Alaska's Cook Inlet, and his parallel life as a professor of American literature.
EXCERPT:
We had caught the ebb, riding it not only part of the way to Homer that day but also into careers that changed our lives. We made a go of it that summer, earning enough to cover the twenty-five hundred dollars we'd paid for Margaret, pay off our bill at the company store, and still pocket about three hundred dollars each. We learned a lot about boats, salmon, gill nets and Cook Inlet. We were hooked on this new way of life. But we didn't know that over our next thirty years we'd be riding another ebb, the gradual decline and transformation of this simple and exciting kind of work. There were good and bad years, varying with our luck, the market, and the size of the runs. The industry changed dramatically as the boats got bigger and faster and the gear more efficient, and as the Japanese market for frozen salmon displaced the market for canned salmon. There were some rich years toward the end, but things began to fall apart with the Glacier Bay oil spill in 1987 and then the disaster of the Exxon Valdez. At the same time, the fishery for wild salmon began to take a deadly blow from the farm-raised salmon industry.
The sockeye still return to Cook Inlet in good numbers and fishermen gear up to pursue them. But it's not the same. Because of the greatly enlarged human population in Anchorage and on the Kenai Peninsula, Fish and Game had to devise more complicated regulations to apportion the runs among the competing interests of sport, subsistence, and commercial fishermen. With all this—the depressed market for wild salmon, and the much more high-powered and technologically sophisticated equipment that is now required in order to compete on the grounds—the Cook Inlet gill-net fishery grinds on, like an overloaded boat dragging across the bar at low water. The way of life that I commemorate here began in the 1870s, was revived in the late 1940s, and thrived for nearly another half century, but I can't imagine a tide that will lift it again.