Intrigue and danger* at Pacific Science Center—UWAA Member Night with SPY: The Secret World of Espionage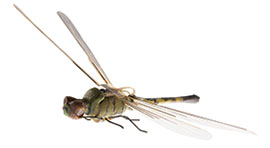 Is this a bug? Or a
bug
? In the shadowy world of spies, nothing is what it seems.
Greetings, Agent. As you may have heard, real gadgets and artifacts from spies and spy catchers have been "liberated" from the archives of the CIA, the FBI and the National Reconnaissance Office. These artifacts—representing some of the crown jewels of historical and modern spycraft—are currently making their way towards Seattle as part of the traveling exhibit, SPY: The Secret World of Espionage.
Your mission, should you choose to accept it, is to use your status as a UWAA member to infiltrate and investigate this exhibition. Field operatives have arranged member-exclusive pricing and after-hours access to the exhibition, as well as special activities and pre-exhibit discussions.
As always, should you or any of your party be captured, the Secretary will disavow any knowledge of your actions.** This website will self-destruct in ten seconds.***
UWAA member-agents enjoy special after-hours access and $16 admission****—tickets for the general public cost up to $32.50!
Pre-exhibit discussions: Join UW scholars for special pre-exhibit discussions at 5:30 p.m. in the Laser Dome:
April 10: UW School of Law Professor Ryan Calo on the promise and perils of a domestic drone industry.
April 11: Professor Radha Poovendran, the Director of the UW's Network Security Lab, will discuss electronic eavesdropping and the limitations of technology in providing user privacy in public networks.
The pre-exhibit talks are free, but advance registration is required; click through to the registration page to sign up. These discussions are sure to fill quickly, so be sure to sign up early.

*Okay, maybe not "danger," exactly. But definitely "fun."
**Always wanted to say this.
***This website will not self-destruct.
****Admission for UWAA members is $14 plus $2 UWAA processing fee.

SPY is produced by Base Entertainment