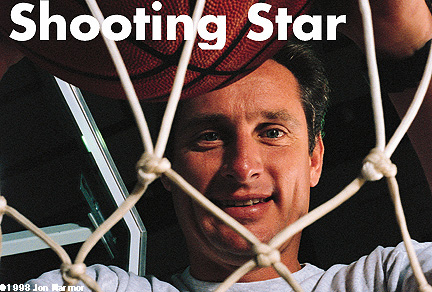 Year three was the breakthrough year. "We knew we had to win," Bender says. "It was time to produce." With more talented players on board like Jamie Booker and Mark Sanford, the Huskies went 16-12 and earned a berth in the National Invitation Tournament. The next year was even better, a 17-11 record and another NIT berth.
Then came the magical year of 1997-98. The Huskies won 18 regular-season games and, by the hair on their chinny chin chins, were picked for the NCAA tournament (they were one the last two teams selected). The team looked like a lock for the tournament until it stumbled badly late in the season, losing six of nine conference games. But Bender rallied his team to close out the year with three consecutive victories--including a 95-94 thriller over UCLA and a 19-point victory over WSU--to make it to the Big Dance. "He focused the team so it wouldn't lose sight of our goal," says assistant coach Eric Hughes. "He didn't let those losses get us down." Finally, after five years, the team made it.
"He always was a leader," Krzyzewski said. "He was very mature for his age, he had the ability to communicate with everyone. He loves the game, he loves the kids. I always knew he would be an outstanding head coach.
"The UW needed someone who would show the commitment and loyalty to the program there," the Duke coach continued. "The last few years he has really made his mark."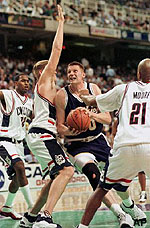 ---
Todd MacCulloch drives down the lane in an NCAA tournament game against UConn.
---
That mark grew during the NCAA tournament, when the lightly regarded Huskies upset No. 21 Xavier and then routed Richmond to reach the Sweet 16. The exultation, though, was bittersweet. Bender was now a white-hot commodity, considered a leading candidate at any school with an opening. After the Huskies lost a heartbreaking 75-74 decision to Connecticut, the University of Texas got very interested.
Weeks passed. Bender met with Texas officials in Dallas and in California. Tom Hicks, a University of Texas regent, even sent his private jet to bring Bender to his home in Palm Springs, Calif.
Everyone in Seattle nervously wondered if the man who had resurrected the Husky basketball program was going to leave, just like that. They knew the Texas job could provide lots of money (a salary reported to be upwards of $550,000), a huge state of homegrown talent, and a quick rise to prominence. Bender didn't deny he was interested.
"I didn't want to be one of those coaches who said, 'I don't have any interest, I don't have any interest," and then turns around and takes the job," he explains.
Then came the Husky basketball banquet in April. Rumors swirled. Krzyzewzski urged him to make his announcement about his future at the very start. Bender, all 6 feet 5 of him, marched right over to Harshman, the legendary UW basketball coach from 1972-1985, and gave him a hug. That almost made the self-described "gruff" ex-coach cry on the spot. Bender announced he was staying put.
"His loyalty is what sets him apart," Krzyzewzki adds. "Of all his traits, that is his best. His loyalty to his program, to his friends, to his players. I am his friend, and he would do anything for me. And I would for him.
"Some people become enamored of courting and lose sight of what they have right here. Not Bob Bender."
Sure, Hedges sweetened the pot to keep Bender. But the thing Bender pushedfor hardest? Improved contracts for his staff.
"He made sure we were all taken care of," Hughes, an assistant for the past six years, says. "That is just the type of person he is."
Despite all the success, the media attention, the courtship by Texas, Bender remains the same energetic, positive guy, just as excited running his summer basketball camp for third graders as he is talking about the prospects for even more success next season. The Huskies will play in the Great Eight in November in Chicago against the best of the 1998 NCAA tournament field that can be assembled. And it will play in the Big Island Invitational in Hawaii in November against a tough field including Evansville, Georgia Tech and West Virginia.
"In the end, I really realized I have everything I want right here," says Bender, who with his wife, Alice, has a 3-year-old daughter, Mary Elizabeth. They were expecting a son in early August. "Besides, I don't want to make changes. I want to stay in one place, and enjoy the stability that it brings. The longer you are in one place, you realize how special it is.
"The people here were so patient with me, and I appreciate it. And now expectations are rising. That is what we have worked for all these years. We have credibility now. We are getting good players to come to Washington. We are a part of this community.
"And what could be better than that?" *Jon Marmor, '94, is associate editor of Columns.
Return to the Beginning of "Shooting Star"
Husky Athletics Official Home Page
Send a letter to the editor at columns@u.washington.edu.