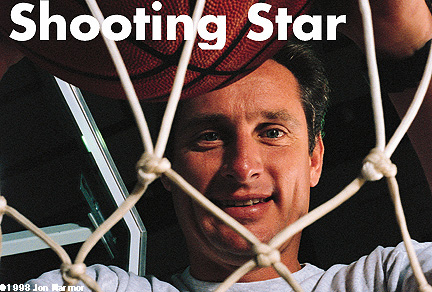 Good thing Bender's senior history seminar at Duke was on Reconstruction. He was taking over a UW program that hadn't had a winning season since 1988, saw attendance steadily decline, had internal strife, and had not been to the NCAA tournament since 1986.
First thing he did was shorten practices from 3 1/2 hours to less than two hours. He also opened practice. Anyone who wanted could drop by to watch. "If you are going to play in front of 15,000 screaming fans in a game on the line, why not in front of a few people in practice," Bender reasons. "You have to learn to tune out distractions. And besides, we are part of the community. We want people to come watch us. Our door is always open."
He also reinstated two players, Andy Woods and Amir Rashad, who been kicked off the team the previous season for clashes with the coaching staff. Both were named co-MVPs of the 1994 team.
But nothing could prepare Bender for that first year: the team went 5-22. "It was really tough," says Jason Tyrus, who played that year. "And though it was so frustrating, he was so organized and positive that we knew he had a plan. Every day was something new and he kept us going when we could have given up." Tyrus was also indebted because Bender invited him back the following year to be a graduate assistant.
Bender often had his players over to his home for dinner or a cookout, to watch a game --and get a look at the table that held his NCAA tournament watches, rings and mementoes. "I loved that the most," says Tyrus, now an assistant at Portland State. "That left a big impression."
The impression went further, though. Word spread about what a great motivator and teacher Bender was, how he could get in your face when you made a mistake yet have you coming away inspired and ready to try even harder.
"I know I am demanding, and I get upset," Bender says. "But in basketball, when you make a mistake, there is nowhere to hide. Everyone sees it. I don't want to compound a problem . You have to maintain some perspective and levity.
"When I was a player, I didn't like it when a coach would belittle me. I learn best when someone is more positive with me."
That made the losing more tolerable. Jason Hamilton, a Washington high school star who turned his back on the UW to play at San Diego State, transferred to the UW after two years. He wanted to come home to play--and to play for Bender, whose reputation as a coach grew despite his win-loss record.
Year two was marginally better, 9-18, but included an early season upset of Michigan, the reigning NCAA champion. Some called that victory in an otherwise meaningless non-conference game a turning point.
"That game showed us we could play with almost anyone," says Hamilton, now an assistant to Bender. "Coach Bender didn't let us get down despite the losing. You would think someone who has to win to keep his job would be concerned with himself but he isn't. He wanted us to experience the same success he's had.
"We had flashes of desperation that second year. There would be times in the locker room with tears and people feeling down, but he would come in at halftime and give us a lift and let us know he believed in us."
One January night in 1995, Didrickson was down in the dumps. Playing for his fourth consecutive losing team, he was fed up. So 10 games into his senior season, he walked over to Bender's Madison Park house at 10 p.m. and knocked on the door. Bender's wife, Alice, was in bed. "He welcomed me into his home, I didn't even call, and we sat and talked for an hour," Didrickson recalls. "He gave me a hug and I walked out feeling so much better. But that is the kind of guy he is. That's why his players will do anything for him."
Bender embraced the community as well. He moved quickly to establish relationships with area high school coaches, invited them and their teams to watch Husky games, and offered to speak at high school banquets and community organization meetings. "He makes us feel important," says Rainier Beach High School Coach Mike Bethea. "He has made such a great impression on our players." It was one reason why the UW is now in the running for such top-drawer high school talent as Jamal Crawford, the Class AAA state player of the year at Rainier Beach, and Doug Wrenn, an honorable mention All-American from O'Dea.
Husky Athletics Official Home Page
Send a letter to the editor at columns@u.washington.edu.