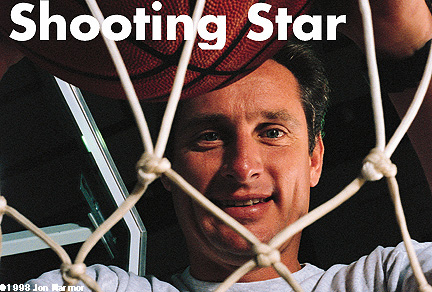 For someone with no head coaching experience, Bender made an immediate impact. In his first year, Bender led Illinois State to the NCAA tournament. Two years later his team won the first of two consecutive league titles. Basketball people noticed and job offers started coming his way.
Wellman asked Bender to take a sheet of paper and list the five schools where he would like to coach someday. Georgetown, Texas, Florida and Washington were on that list.
Washington?
Well, Bender knew a lot about Washington. Not only had his Duke team played Washington twice (a 1977 regular-season game at Duke, and again in the 1984 NCAA tournament), but he also spent a lot of time in the Northwest recruiting players for Duke. The UW program, then enjoying a very successful run--including three consecutive NCAA tournament appearances--under Harshman, impressed him greatly. And he loved the area.
He couldn't believe his stars when the UW and coach Lynn Nance parted ways after the 1993 season, opening up the head coaching job. He applied immediately.
While Bender had his sights set on coming to Montlake, Husky players had other ideas. "We decided we needed a big-name coach here to turn our program around," recalls Scott Didrickson, who played two years under Nance. Didrickson was hoping for someone like Paul Westhead, the former Laker coach who turned Loyola Marymount into a national contender. "When we heard about Bob, I kept wondering, 'Why are they considering that Illinois guy?'"
When "that Illinois guy" came to campus to meet the players during the interview process, "He walked up to each player and shook hands and introduced himself," Didrickson says. "He looked us in the eye and wanted to get to know us. Then we learned of his background, too. That won us over right away."
The players weren't the only ones feeling that way.
"Look at his pedigree," adds Bruno Boin, a former Husky basketball star in the 1950s and a member of the Husky Hall of Fame. "His dad is a coach, he was a great player, he played for two of the best college programs in the nation. He's played at the highest levels and for the best coaches. He was head and shoulders above the other candidates for the job. And there were some terrific applicants."
"He is very straightforward, no pretentions, a person of integrity," Hedges says. "He is very friendly and charming, and he can walk into a room of totally diverse people and make every one of them feel as thought they have found a new friend in Bob. He is very intense when coaching, and he can be very emotional, especially when it comes to his players."
Bender's credentials were even more eye-opening. He was a member of the 1976 Indiana team that went 32-0 and won the national title. But feeling intimidated by Hoosier coach Bobby Knight--known for his tempestuous temper and explosive way of treating players and officials--he transferred the following year and landed at another A-list basketball school, Duke, where he played significantly and led the Blue Devils to the 1978 Final Four. Then, of course, came his success at Illinois State and the move to Montlake.
Some Bumps on the Road to Team Building
The Magical Year of 1997-98
Husky Athletics Official Home Page
Send a letter to the editor at columns@u.washington.edu.