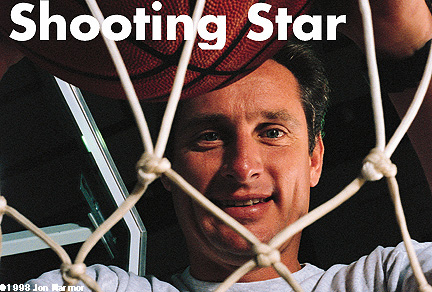 Bender has frequently been the people's choice. One of the nation's top high school basketball players as a senior, he was recruited by every big-time program. He played both at Indiana and Duke, and was the first player ever to reach the Final Four as a member of two different teams. He was drafted by the NBA's San Diego Clippers and was told that even though he wouldn't make the team that year, he would have a chance later on. When he interviewed for coaching jobs, he usually was a top finalist.
Which is downright interesting because he wanted no part of coaching when he hung up his uniform in 1980 after a few weeks of an NBA camp and touring with an AAU team. Coaching and the game had been his whole life growing up.
"I could never get away from it," he recalled. His dad, a former Marine, was a high school coach for 18 years in Bloomington, Ill., where Bender grew up.
(Bender, who has two younger sisters, was born in Quantico, Va., while his father was on assignment there. His dad calls his children "dollar babies" since military families only paid a dollar for deliveries.) Bender played for his father for three years--the only reason it wasn't four, is that his dad stepped aside during Bob's senior year to help him with the crush of recruiting.
"We were always around the game," Bender goes on. "As a family, we were either going to my games, or my sisters' games. And my dad always brought the game home. When I played in high school, I played for him. I couldn't get away from the game, and I had enough."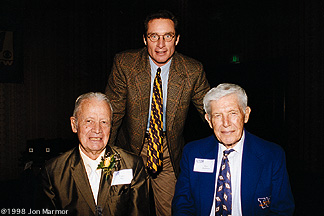 ---
Bender poses between two UW basketball legends, Coaches William "Tippy" Dye (left) and Marv Harshman. Photo by Jon Marmor.
---
So when he graduated from Duke in 1980, he took his history degree like any other college graduate and looked for work. His first job: working for a financial consulting firm in Durham, N.C. He dressed up in a tie and jacket and made cold calls to companies, hoping to lure business for his firm, which went over payrolls and covered Social Security taxes for large corporations. "After six months, I decided it wasn't for me," he says.
Then Tom Butters, the athletic director at Duke, needed an assistant to work in the "Iron Dukes," the department's fund-raising unit. Bender was his man.
He loved being back at his alma mater--where he played from 1978-1980 and helped lead the Blue Devils to the 1978 NCAA championship game. He was good at his job--both because people had fond memories of his playing days but also because of his bubbly personality. But there was one thing that bugged him. "I was involved in the atheltics but from the fringe," he says. "And I would hear about it if the team wasn't doing well.
"I decided then that I wanted a hands-on chance with the team."
That chance became available when the new Duke basketball coach, Mike Krzyzewski, had an opening for an assistant. Bender applied, even though it meant going into the profession he intially shunned. Krzyzewski--who helped recruit Bender out of high school when Krzyzewski was an assistant at Indiana--loved Bender but was unsure of his motivation. "Are you sure this is something you are committed to, or are you just trying it?" he asked. Right then, Bender knew if he wasn't committed, he wasn't going to get the job.
In 1984, Bob Bender took his first step out on the court as an assistant. His life has never been the same. He spent six years at Duke, helping guide the team to a 164-45 record and six NCAA tournament appearances. That led him to his first head coaching job at Illinois State, a small school with a history of basketball success. When Illinois State Athletic Director Ron Wellman, who was interviewing seven candidates, met Bender, he told his staff, "We found our guy right there. He was so positive, appreciative and easy to work with. I knew he was our guy."
Setting His Sights on Montlake
Some Bumps on the Road to Team Building
The Magical Year of 1997-98
Husky Athletics Official Home Page
Send a letter to the editor at columns@u.washington.edu.