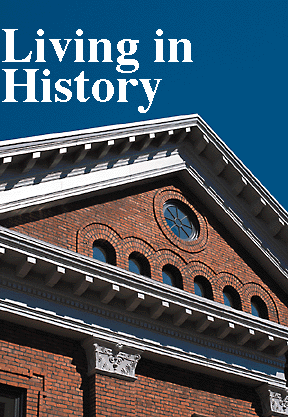 By Tom Griffin
Photos by Mary Levin
In 1990, when the UW recommended placing its new Tacoma campus across the street from the old railroad station on Pacific Avenue, some politicians and editorialists said it a mistake. "The area was fairly dangerous after 6 p.m.," UWT Professor Ron Butchart recalls. "It was gloomy and run down. Most of the buildings were essentially abandoned. It was an incredibly depressed area."
"It was a low-end warehouse district. One building was packed with parts for World War II era Jeeps," adds Branch Campus Projects Director Joe Brawley. One empty building was home to hundreds of pigeons. Another's roof was so leaky it rotted. "There was nobody there. It was not even a red light district," Brawley recalls.
Today, University of Washington Tacoma Dean Vicky Carwein can rightfully exclaim, "The siting was absolutely brilliant. We are in the heart of downtown Tacoma. We will become a national model of what an urban, downtown, commuter campus can be in--and to--its community."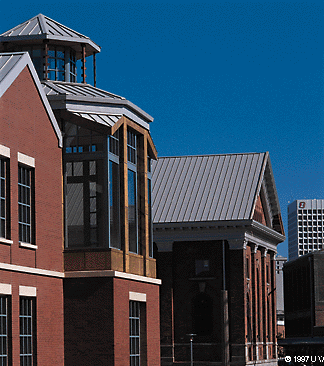 ---
The span of history can be seen in the contrast between the UW Tacoma library's new tower (left) and its restored reading room (right). Photo by Mary Levin.
---
The UW could have built a new campus away from Tacoma's downtown or it might have torn down what were century-old eyesores for a "modern" campus of concrete and glass.
Instead, six historic brick structures have been gutted, upgraded to withstand major earthquakes, and wired for 21st century technology.
When its doors open on Sept. 29, UWT will have room for about 1,200 full-time students in a $33 million campus. Architects organized the site around a central plaza, featuring an academic complex born of four old warehouses, a brick storehouse turned into a computer lab and a library with a reading room that once served as a power station.
From 19th Century Warehouses to 21st Century Classrooms
Heady Days for UW Tacoma's Growth
A Time of Sharing: UW Bothell Will Grow with New Community College