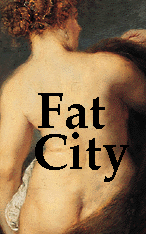 By Jon Marmor
Far and wide, people put down their carrot and celery sticks. Folks at Jenny Craig, Weight Watchers, NutriSystem, Diet Center and eat-nothing-but-pineapple-and-blue-algae meetings stuck their heads up like meerkats. Earthshaking news was out and you could just taste the excitement.
Even those folks who didn't stuff themselves with fen-phen or UltraSlim Fast had to pay attention to this.
A little mouse living in a cage in the K-Wing of the University of Washington's Warren G. Maguson Health Sciences Center had done the equivalent of man walking on the moon: he had eaten a high-fat diet--and lost weight. What caught everyone's attention was that this little fellow was genetically designed by UW researchers. In other words, science made a living, breathing creature who could chug Ding Dongs and not get fat.
Everyone just had to know: could they do that for me?
By the time the year 2005 rolls around, the answer may be yes.
Despite its rap as being a narcissistic trip, weight control is a huge medical problem in this country. According to the National Institutes of Health, half the people living in the United States are overweight, and one-third are clinically obese (weighing 20 percent more than they should). More than 300,000 people die of obesity-related disorders every year. No wonder we Americans fork over more than $30 billion a year on a smorgasbord of weight-loss endeavors.
This breakthrough--and others in the weight-loss world--are sure to start a feeding frenzy among drug companies to develop a pill that in humans will replicate what the UW researchers did with that little mouse. Only recently the U.S. Food and Drug Administration (FDA) approved the first weight-loss drug in 20 years when it gave the stamp of approval to Redux. (Amphetamine, approved in 1952, was the first FDA-approved weight-loss drug.) Appetite suppressants have been with us even before Richard Simmons, and lately people have been gobbling up Redux and another new drug--fenfluramine hydrochloride, aka fen-phen--in hopes they will make the pounds go poof. Redux is said to create chemical changes in the brain that help combat emotional bingeing. Fen-phen, one of the top 10 fastest-growing prescriptions in 1996 (7.3 million sold last year), raises the level of the brain chemical serotonin, which is supposed to tell the body it is satiated.
Drugs like these--poo-poohed by medical experts for being merely another in a long line of quick fixes--haven't proven to provide long-term help. They have side effects and can't be taken for more than 12 weeks at a time, says UW Psychologist Stephen Woods, who specializes in obesity.
How the Body Sends Signals to Store Fat
Mutant Mice Defeat High Fat Diet
Genetics Finally Recognized as a Key to Weight Gain
Drugs Not Total Answer to Weight Loss

Send a letter to the editor at columns@u.washington.edu.