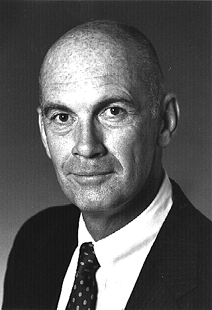 ---
Former UWAA Executive Director Jon Rider. 1990 photo by Mary Levin.
---
An 11-member search committee has been meeting this summer and fall to seek a replacement for former UWAA Executive Director Jon K. Rider, '63, who resigned his position effective July 2.
Rider, who was head of the UW Alumni Association and the UW's alumni relations efforts for six years, said he felt it was time for a change in his own career and in the direction of the alumni association.
"It was one of the toughest decisions I've ever made, but it was the right one. I believe that the continued growth of any organization depends on a constant infusion of new talent, with new ideas and new energies.
"I am proud of our association and how far we've come and how our future is unfolding. From a personal view, I'm delighted to have filled the role as executive director, fortunate to have served my university and honored to have met so many alumni. While I will not walk this way again, the memories of these last six years are mine forever, and they are good ones," he said.
Judd Kirk, '67, the 1995-96 UWAA president, said of Rider's tenure, "The association could not have made such tremendous advances the past six years without Jon's leadership. We are all proud of the contributions he has made."
Vice President for University Relations Robert Edie also praised Rider. "Jon has provided much dedicated service to the alumni association. He has been a familiar ambassador to alumni around the country, and his efforts have been deeply appreciated," he said.
Edie and current UWAA President Larry Matsuda will hire the new alumni director, who holds two titles: "University Director of Alumni Relations" and "Executive Director of the UW Alumni Association."
The national search is a collaborative effort between the University and the alumni association. Edie and Matsuda hope to have a new director by the end of the year. UWAA Associate Director Kathy Hitchcock is serving as acting director in the interim.
The search committee chair is Associate Vice President for University Relations Norm Arkans. Members of the committee include: Business Administration Dean William Bradford; UWAA Trustee Janet Brandt, '58; Associate Vice President for Government Relations Sheral Burkey, '78; 1988-89 UWAA President Arthur Buerk, '58; UWAA Vice President Cory Carlson, '81; Building Construction Professor Steve Goldblatt; Columns Editor Tom Griffin; Assistant Vice President for Development John Goodwin, '86; ASUW President John Linder and 1993-94 UWAA President Sheila Manus Vortman, '69, '85.
From 1990 to 1996, Rider led a staff of 25 that served more than 215,000 UW alumni. During his tenure, membership in the UW Alumni Association grew to 55,000. The organization remains among the top 10 alumni programs in the country in dues-paying members.
Among Rider's many achievements, he was a strong force in tying alumni and the University closer together. He was instrumental in launching the award-winning Multicultural Alumni Program (MAP), an alumni group that supports recruitment and mentoring of students, faculty and staff of color and promotes diversity within the UW and UW Alumni Association.
Rider also helped found the Student Alumni Connection, a public service group that links current students to alumni. As UWAA director, he also helped revitalize the UWAA Legislative Support Network, which informs alumni of issues crucial to the University at the state government level.
The UWAA staff was saddened by Rider's decision. "I am extremely sorry to see him go. He has been a wonderful mentor for me," said Hitchcock. "Jon has become more than a boss," said Business Manager Tom Lally. "He is a leader, a mentor and, most importantly, a friend."
A Seattle native, Rider graduated from the UW in 1963 with a degree in sociology. He spent 27 years in the U.S. Marine Corps, which included three tours of duty in Vietnam. When he retired as a colonel in 1990, his last post was heading the Marines' largest infantry training program at Camp Pendleton in California.
Send a letter to the editor at columns@u.washington.edu.