A Look at Life On and Off Campus Along with its "Everyone is moving to Seattle" cover article on May 20, Newsweek magazine included a list of some people who matter in our Emerald City. Naturally, many had connections to the UW. They are:

Paul Allen, who gave the UW Libraries $11.9 million and is the son of the late Kenneth S. Allen, the libraries' associate director for 20 years .

Harriet Stimson Bullitt, '64, environmental benefactor and former co-owner of King Broadcasting

KVI talk radio host John Carlson, '81

Glass artist Dale Chihuly, '65, the UW's 1993 Alumnus Summa Laude Dignatus

Seattle City Councilwoman Martha Choe, '76

Bill Gates, the UW's most generous donor and son of William H. Gates, '50 and Mary Maxwell Gates, '50

Best selling author David Guterson, '78, '82

UW English Professor Charles Johnson, winner of the 1990 National Book Award

Jonathan Poneman, former UW journalism student and KCMU staffer, co-founder of Sub Pop Records and force in Seattle's music scene

Seattle Mayor Norm Rice, '72, '74

Tomio Moriguchi, '61, owner of Uwajimaya, the Asian supermarket chain
Top This
David Guterson, '79, had quite an April. The Bainbridge Island author of the acclaimed book Snow Falling on Cedars was named one of Granta magazine's 20 best American writers under the age of 40. He also was named one of People magazine's "50 most beautiful people" list. The magazine called him "the thinking man's Grizzly Adams."

SOUNDBITE: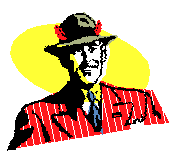 "Another big problem in health care is the high cost of malpractice insurance. The problem is, for every doctor graduating from medical school, there are two students graduating from law school waiting to sue you."--Art Buchwald, speaking to a gathering at Hogness Auditorium at the UW School of Medicine on June 6.
Silenced Song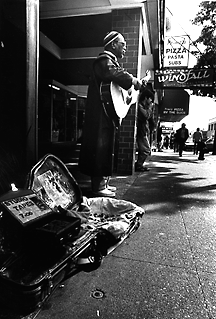 You won't hear the bluesy-jazz songs or see the friendly smile of Ron Martinez any more in front of Windfall on the Ave any more. Martinez, a street guitarist who had made the Ave his home since the mid-1980s, died on July 4 of a self-inflicted gunshot. A talented musician who also played keyboards, clarinet, saxophone and drums, Martinez never asked for spare change or accepted any handouts. He sold studio tapes of his music from his guitar case, chatted with passers-by and performed his songs for anyone and no one. A memorial service was held on July 14 at the University Heights Center for the Community.

For several letters concerning Ron Martinez and his death, see December 1996 Letters to the Editor.

Send a letter to the editor at columns@u.washington.edu.