A career educator who received all of his college training at the UW took the helm of its alumni organization in June as Larry Matsuda, '67, '73, '78, retired assistant superintendent for Seattle Public Schools, became president of the UW Alumni Association for 1996-97.

Matsuda begins his term leading the 50,000-member organization with a pressing task: hiring a new executive director to replace Jon Rider, '63, who left his post on July 2.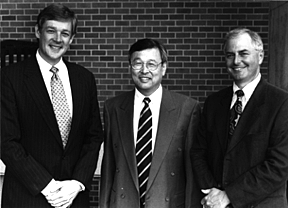 New officers for the UW Alumni Association include (from left) Cory Carlson, '81, vice president; Lawrence Matsuda, Ph.D., '67, '73, '78, president; and John Meyer, '68, president-elect. Not pictured is Treasurer Debbie Juntunen, '79. Photo by Jon Marmor.
---
"The search for a new director will involve the participation of many alumni," Matsuda says.

Carrying out the strategic plan initiated last year under the administration of outgoing president Judd Kirk, '67, Matsuda said a number of projects need to be finalized in the upcoming year. They include an Internet connection service, a career services program, and a plan to work with outside organizations and agencies for the benefit of the University.

Under a new administrative structure, Matsuda says he will split some of his duties with 1996-97 President-Elect John Meyer, '68, and incoming Vice-President Cory Carlson, '81. "This will allow the three of us to focus on specific areas of the organization," says Matsuda, who was president-elect last year. "It will also develop continuity for years to come."

Matsuda has served as a trustee of the UWAA's board of trustees since 1992. He was elected treasurer in 1994 and president-elect last year. He is also a member of the Multicultural Alumni Partnership. Graduates of the mid-60s may remember him as a staff writer for The Daily.

Education is his passion, and he has spent his entire career in the field, starting as a middle school language arts and literature teacher. He spent three years as a counselor and staff assistant to the assistant vice president of the UW's Office of Minority Affairs in the 1970s before joining Seattle Public Schools. He served as a principal and program director before becoming assistant superintendent of student support services in 1990. The following year, he was named assistant superintendent for strategic planning, evaluation and assignment, a position he held until his retirement in 1993.

Matsuda, who also serves on the Asian Directors Coalition, received all of his higher education at the UW, beginning with a B.A. in education in 1967. He received a teaching certificate in 1971, his M.A. in educational administration in 1973, and a Ph.D. in higher education in 1978. A principal credentials followed in 1981. His wife, Karen, '78, has a nursing degree from the UW.

Also at the June meeting of the UWAA Board of Trustees, Debbie Juntunen, '79, was named treasurer. The board also named four at-large trustees to three-year terms: Mindy Mounger Blakeslee, '89; Jon Bridge, '72, '76; Dexter Eng, '68; and Gary Oertli, '70, '72.

Send a letter to the editor at columns@u.washington.edu.