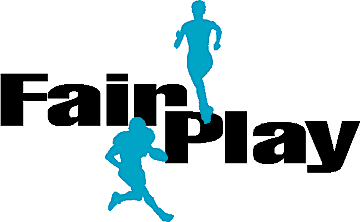 by Jon Marmor
Ask any women's coach at the University of Washington--or anywhere else for that matter--about their days as a college player, and you will hear some great war stories.
Like how they had to pay for their own workout clothes; buy their own sneakers; cram a whole basketball team into a van for a 6-hour drive to play a one-hour game; or drive back at midnight after a game because the team couldn't afford to spend the night in a motel. Scholarships? Don't make me laugh.
"It sure was a different time," says Marie Tuite, who is doing all she can to make sure those stories become the stuff of legend. A former college basketball star who is a senior associate athletic director at the UW, Tuite says, "There's almost nothing in common between the days when I played and now."
Today, the women's basketball Final Four is on television. Women athletes have scholarships and women's programs have shoe contracts. New fields are being built, programs created, and people are paying more attention to women's sports.
It hasn't been this way for long. Women's sports were often viewed like gum on the bottom of your shoe--something that won't go away and is just annoying enough to make you pay attention to it. Men's sports, particularly football and basketball, were always king. Women's sports programs frequently were devoted to things like field hockey, and mostly on the club level. Picking up a sports page and seeing anything about women's sports (other than golf and tennis) happened about as often as Halley's Comet passed by.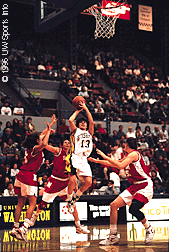 ---
The UW women's basketball team is one of the school's highest profile female teams. UW Sports Information photo.
---
Outside of the players, coaches, friends and parents, interest in women's sports just didn't seem to exist. And neither did opportunities. But there were the exceptions--many of them on the West Coast. Like its Pac-10 colleagues UCLA, USC and Stanford, the UW has always had a strong women's sports program. Most notable: the Husky women's crew team, which has existed as an intercollegiate sport since 1976, has won seven national championships. The UW women's basketball program has seen nine National Collegiate Athletic Association (NCAA) playoff appearances in 11 years.
In the past few years, the UW has also become a national power in two new sports--women's softball and soccer. But the UW's status as a leader in women's sports isn't only based on its success on the playing field. Most of it is actually the result of the UW's commitment to gender equity.
Law Suits and Cutbacks
Doing It the Right Way
Case Histories: Softball and Soccer
New Womens' Basketball Coach June Daugherty
Husky Sports Home Page
Send a letter to the editor at columns@u.washington.edu.