Robert Waldo, '46, who devoted more than 30 years to helping chart the course for the University of Washington, died May 28, 1995, after a long battle with pancreatic cancer. He was 72.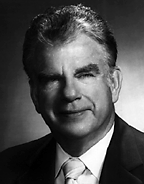 Education was his passion. In addition to serving the UW in various leadership posts, he also worked on behalf of all of the state's public institutions to secure resources. Most of the time, he was successful in his quest.
"He was politically savvy and very well connected, trusted and liked," outgoing UW President William Gerberding says.
One huge reason was Waldo's disarming personality and gentle spirit. "He had a way of making friends while he was persuading people," says his wife, Joan.
Waldo spent 32 years as a UW administrator, including 10 years as vice president of university relations and 10 years as vice provost and director of government relations. Many considered him a mentor who had a knack of bringing together people with different opinions for a common goal.
"When you're representing anybody, your word is extremely important," says Sheral Burkey, associate director of government relations for the UW. "Bob Waldo was one of those people who you could always trust."
Born in Seattle on Dec. 24, 1922, Waldo graduated from Garfield High School in 1940 and went to the UW, receiving his bachelor's degree in business administration in 1946. His days as an undergraduate marked the beginning of a long career in higher education as a student, administrator and advocate.
After representing the Sigma Nu fraternity's national organization and serving in World War II in Europe, he earned a master's degree in higher education administration from Columbia University and a Ph.D. in public administration from USC.
He returned to the Northwest for good when he was offered a job as a counselor in the UW Office of Student Affairs. In 1956, he became dean of men, a job he held for five years. When he was appointed to a position in the president's office, his focus shifted as he headed up the UW's planning, development and university relations efforts.
His gentle sense of humor and good nature served him well in his dealings with legislators in Olympia and Washington, D.C., as director of government relations, a post he took in 1974 and held for 10 years
"He was a real mentor to a lot of people in the field," Burkey says. "He was a real role model."
After retiring from the UW in 1984, he didn't slow down at all. He spent the next four years as the executive director of the Council of Presidents, representing the heads of Washington's six state universities He also served on numerous boards of directors, and was a member and past president of the UW Retirement Association and a member of the KCTS/9 Association Board.
Remembrances may be made to the Robert G. Waldo Fund for Government Relations, University of Washington Foundation, Box 358240, Seattle, WA 98195-8240. --Jon Marmor
Return to September 1995 Table of Contents.