Drawing Attention
He once sold insurance door to door, but now Atlanta Constitution Cartoonist Mike Luckovich is at the top, having won a Pulitzer Prize.
By Alansa Bates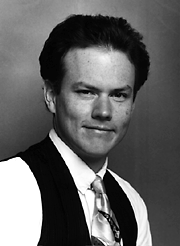 Mike Luckovich, '82. Atlanta Constitution photo.
If you phone Mike Luckovich at work, you may get his voice mail stating that he's been sent home temporarily because of poor hygiene--or that he's gone to his militia meeting. If you meet him, you'll see two-toned shoes and wild ties that look like they've been plugged into a wall socket.
It's a style that would fit the Daily newsroom, where Luckovich started his career. But don't judge the rambunctious editorial cartoonist for the Atlanta Constitution by his wardrobe. One look at his Pulitzer Prize-winning work reveals the seriousness with which Luckovich, '82, takes his mission.
"I feel a responsibility to people who don't have voices in this world--the poor, the disadvantaged. I can make a difference for them," says Luckovich, who last spring received the 1995 Pulitzer Prize for editorial cartooning.
The cartoonist, who is internationally syndicated, has received virtually every major award in his field. His work has been published in the New York Times, Time, Newsweek, U.S. News & World Report, and the Seattle Times, among many national outlets, and regularly appears abroad.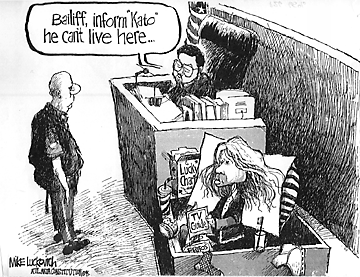 Cartoon by Mike Luckovich. Copyright 1995 Atlanta Constitution
There is plenty of fan mail, but response to his cartoons also includes hate letters, "which use every four-letter word in the book," Luckovich says, "and even death threats." He says that the threats "make me nervous sometimes and I have an unlisted number, but that's when you know you've had an impact."
Choosing Luckovich for the Pulitzer was "very easy," says Don Robinson, a Pulitzer jury member and editorial page editor of the Register-Guard in Eugene, Ore. "His cartoons stood out as very pointed, very humorous and much sharper than everyone else's."
Such praise verifies what Cynthia Tucker, editor of the Constitution's editorial page, wrote in Luckovich's Pulitzer entry: "Mike Luckovich is, quite simply, brilliant. His responses to the important social issues of our day range from wickedly funny to deeply poignant to decidedly irreverent. But they are always right on the money."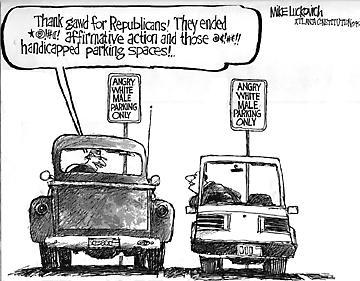 Cartoon by Mike Luckovich. Copyright 1995 Atlanta Constitution
Luckovich, 35, who got his real start drawing cartoons for the Daily, thought he was the victim of a practical joke when he first heard about the honor.
On April 18 he was at work. At the hour he knew the Pulitzer committee was supposed to call, "I was on my phone with someone else and I saw my message light go on. But I thought, `Nah, it couldn't be,' so I went on with my call."
After he hung up, a cartoonist friend called and asked if he'd heard anything. The friend said he had checked his own computer news feed and then told Luckovich that he had won, "but I thought he was kidding--after all, he is a cartoonist," Luckovich says. Finally, the Constitution checked its wire stories and Luckovich realized that his friend hadn't been kidding after all.
Winning the Pulitzer--which he calls "the ultimate coloring contest"--was a lot of fun, he says. "For two weeks after, I really couldn't do any cartoons there were so many people coming by--people I'd gone to grade school with; people I hadn't seen in years. Even if they don't all know exactly what it means, everyone realizes that the Pulitzer is special."
People look at him differently now. "You become an icon in a weird way," he says. "It's nice people put such stock in an award because it makes you realize that it's important."
The editorial writers at the Constitution have always looked at Luckovich strangely. "They don't really understand what I do and vice versa," he says. But his paper gives him almost total freedom. He doesn't necessarily keep his cartoon in synch with the day's lead editorial and draws what he pleases.
Such independence is relatively new to him. While at his previous job with the New Orleans Times Picayune/States-Item, for instance, he routinely had to submit three or four cartoon ideas and his editor would choose one for him to draw.
But this fairly liberal Northwesterner has spent his career drawing cartoons for three papers located in the traditionally conservative South (his first job was with the Greenville, S.C., News). It certainly doesn't seem to have slowed him down.
For instance, he's drawn a number of rather venomous cartoons targeting House Speaker Newt Gingrich, R-Ga., whose district--being just north of Atlanta--makes the Constitution almost Gingrich's hometown paper. Does Luckovich consider Gingrich just a delectable target or does he really dislike the man?
"I don't much care for him and he doesn't much care for me," he says. He considers the speaker brilliant but, "he's sort of a nasty human being toward others and the fact that he's so thin-skinned about himself is kind of ironic."

Cartoon by Mike Luckovich. Copyright 1995 Atlanta Constitution
Also easy to lampoon lately, he says, is Sen. Bob Dole, R-Kan., "who has been pandering to every group. He's like a weathervane."
Republican leaders, however, are by no means Luckovich's sole targets. He has also drawn cartoons knocking President Clinton for his weak stand on Bosnia. "I try to be open-minded and to see both sides but don't try to hit both sides equally," he says. "I try to keep my readers guessing."
And it has been that way for years. Michael Sande, '83, who was the Daily's editor when Luckovich was the cartoonist in 1981-82, recalls that "Luckovich's political views were much more conservative than those of the other `wild-eyed liberal' students then working on the paper. But even then, he was very fair," Sande says. "He's an independent thinker. His cartoons always made you think."
Of the Pulitzer, Sande says, "It's an amazing honor. We're all incredibly proud to have worked with him then."
Sande, marketing and public relations director for the Pasadena, Calif., Playhouse, doesn't think Luckovich's cartoons have changed much since his Daily years. "Every night when he'd bring in his cartoon, it would always make us laugh," he says. "He was so dead on with the thing. Far beyond his years. But he came across as the most innocent, naive person you've ever met."
"He struck me," says Pam McGaffin, '83, who was the Daily's managing editor in the early 1980s, "as this wide-eyed little boy, a `golly-gee' sort of kid, totally naive and not worldly or politically savvy at all. Then he came out with political cartoons that were pretty sophisticated. His whole persona was almost the opposite of what he was producing."
At the Daily, Luckovich seldom did cartoons on local or campus issues, focusing instead on national political subjects. That's because he was trying to build a portfolio. "Every day I'd come home after class, spend three to four hours coming up with a cartoon idea, three to four more hours drawing it, and then would drive it back to the Daily that same night."
This didn't give him much time for his regular homework, but, he says, "the poli sci courses were invaluable. They gave me the background and authority I have now in analyzing events."
Luckovich also took two applied art courses, "for perspective. In one I got a C because I kept drawing cartoons and the professor apparently wanted something else," he recalls.

Cartoon by Mike Luckovich. Copyright 1995 Atlanta Constitution
Like most cartoonists, Luckovich learned cartooning on his own. Why cartoons? "You just have to be born with the desire," he says. He started drawing them at age six; at Sheldon High School in Eugene, Ore., he got interested in politics, and, eureka, saw a way to combine his two passions.
Getting a job as a political cartoonist after graduating from college, however, was another matter. In 1982, there were only about 100 full-time positions for editorial cartoonists in the country. For two years, he sold cartoons on a freelance basis to the Everett Herald while peddling life insurance door to door, "which I really hated," he says.
While he detested that occupation, he and his wife, Margo, cherish the Northwest. "We love Seattle," says Luckovich. The couple and their three children--John, 8 (born on Luckovich's birthday); Mickey, 6; and Micaela, 3 (born on his wife's birthday)--make yearly visits to Seattle, where relatives on both sides live.
Though he refers to cartooning as "my favorite hobby," it always will be intensive work, which few people realize, he notes. First he must get background by reading his own newspaper and the New York Times and by watching local and national newscasts. Then he must come up with the cartoon idea, which he calls "the gut-wrenching part." After that, he spends several more hours drawing the cartoon, "the funnest part," he says. "You need to make a statement, make it humorous, and draw it well."
For the most part, when he would tell people what his job was, most would ask, "Is that all you do?"
Since the Pulitzer arrived, no one asks. END
Alansa Bates, '75, is a Seattle free-lance writer and former editor of the Washington Alumnus, the precursor to Columns.
Return to September 95 Table of Contents