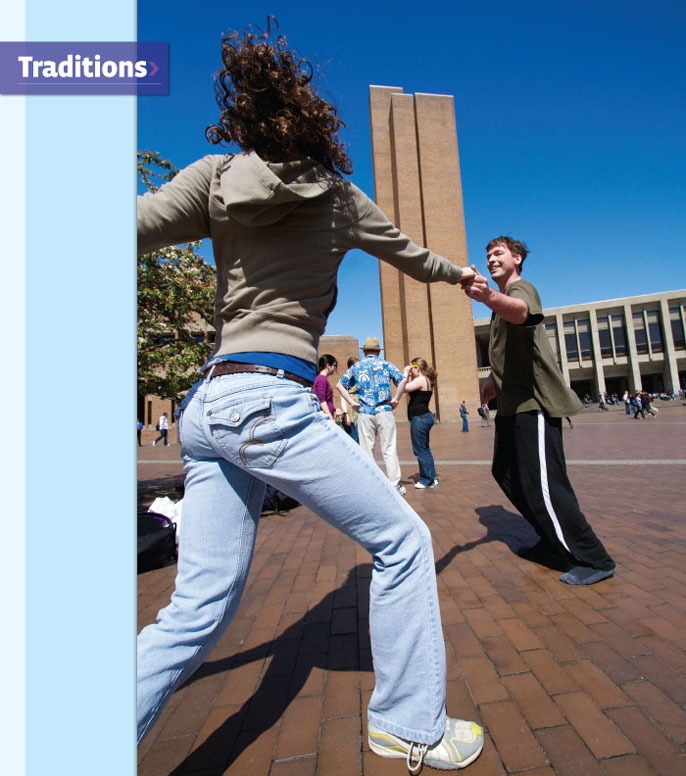 Photographed April 17, 2009 by Erin Lodi.
The Swing Kids
Alex Hanning whips Suzanne Miller round Red Square as part of a University of Washington tradition that never fails to bring a smile to passers-by. They are part of the Swing Kids, who have been dancing the Charleston, Lindy Hop and other East Coast swing steps at Red Square for the past 12 years. The group was started by UW alum Chris Chapman, who went on to found HepCat Productions, a Seattle dance studio, where Chapman continues to teach. The UW Swing Kids practice their moves every Friday, rain or shine. They also host weekly lessons and gather for a formal dance every quarter.
Columns Digital Magazine
The UW Alumni Association is proud to announce that Columns is now available as an interactive digital magazine. It's presented using the Issuu viewer so you can browse through it just as you would the printed version. You can zoom in, print pages or share articles by e-mail.
Just click the "Digital magazine" link next to the cover image to start browsing.
Need a little more help? Gets some tips for using the Issuu viewer.