No books? Kindle they handle that?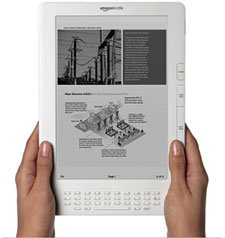 Today's students like it simple. Their phones, Facebook apps and cameras all fit in their pockets, so it was just a matter of time before their study habits entered the digital age as well.
Starting this fall, approximately 150 University of Washington students will be given Amazon.com's latest electronic reading device, the Kindle DX, as part of the Kindle pilot program. Sporting a 9.7-inch screen and weighing just 18.9 ounces, the Kindle DX can hold up to 3,500 books and is capable of storing entire textbooks as a digital file. The UW is one of seven institutions nationwide participating in the program.
"There are huge advantages to not carrying around 30 pounds of textbooks everywhere you go," says Ed Lazowska, Bill & Melinda Gates Chair in Computer Science & Engineering, which has 60 graduate students in the pilot program. Master's candidates in the Technology Management MBA program will participate, beginning in January.
If the Kindle DX—a personal reader by definition—can help students manage their schoolwork, the days of carrying heavy textbooks to and from class could soon be over.
Columns Digital Magazine
The UW Alumni Association is proud to announce that Columns is now available as an interactive digital magazine. It's presented using the Issuu viewer so you can browse through it just as you would the printed version. You can zoom in, print pages or share articles by e-mail.
Just click the "Digital magazine" link next to the cover image to start browsing.
Need a little more help? Gets some tips for using the Issuu viewer.