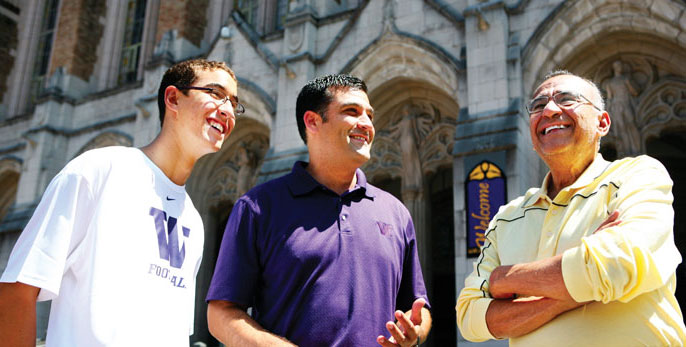 Photo by Aly Medina.
Executive Director Paul Rucker, center, speaks with Ramses Antoun, right, and Daniel Antoun in Red Square.
Welcome Huskies
Slide Rules and Oldsmobiles: UW Welcomes the Next Generation
The time: fall 1968. The place: the University of Washington. Ramses Antoun, '72, cruises up to Guggenheim Hall in an eight-cylinder Oldsmobile Cutlass Supreme with a slide rule in his pocket. The young man from Egypt hadn't planned to move to the United States, but turbulence in the Middle East changed that. Anyway, the job market there was tough for people like him—members of Egypt's Coptic Christian minority. Here in Seattle, with a master's degree in engineering from the University of Washington, he would have a better shot at a great career with Boeing.
Forty-one years and a lifetime of experiences later, Ramses is back at the UW—this time attending new-student orientation with his son, Daniel, an incoming freshman. While the three of us strolled across campus, Daniel talked about his passion for engineering, his wish to make a difference in the world and his interest in becoming an astronaut.
As we prepare to welcome Daniel and more than 5,000 other new students to our three campuses this month, I'm thrilled by the diversity in the Class of 2013 (take a look at the student statistics on page 19 for a glimpse of what we expect). Thirty years ago, minorities made up 7 percent of the student population; today, that figure is more than 30 percent. And Husky Promise, the UW's commitment to paying full tuition for thousands of financially disadvantaged students, continues to make dreams possible.
We all have a role to play in supporting Daniel and all the other talented students returning this fall. As alumni and friends of the UW, we can enrich the student experience in any number of ways. Why not sign up to serve as an alumni career contact? Or how about passing out free bagels and coffee in Red Square? Or raising scholarships dollars for students through the annual Dawg Dash 5k run/walk? The UW Alumni Association invites you to join us in welcoming the next generation of Huskies. For more ideas on how you can get involved, contact us at uwalum.com. And keep an eye out this fall for Columns online, we'll hear more from Daniel and continue to share all things Purple and Gold.
Much has changed since Ramses Antoun arrived on campus. Engineering students ditched their slide rules long ago, Oldsmobiles are extinct, and hybrid electric cars are edging out the big gas-guzzlers. Yet every fall, thousands of students arrive with their hopes and dreams, just as Ramses did more than 40 years ago. Likewise, the UW's commitment to its students remains steadfast. We hope you will join us in supporting UW students. By doing so, you invest in a brighter future for all of us.
Stay connected. It's the Washington Way.


Paul Rucker, '95, '02
Executive Director