Pasatiempo Takes Reins as UWAA President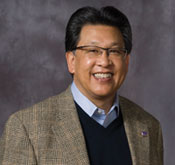 Eddie Pasatiempo, '77, was born in a big city (San Francisco), lived on a farm, attended three junior high schools and three high schools, moved 11 times during a 16-year career with IBM, spending six years living in the Asian Pacific.
In other words, he has the perfect background as he begins his term a president of the 55,000-member University of Washington Alumni Association for 2009-10.
A partner at The Clarion Group, a Kirkland-based company that provides strategic planning, change management and leadership development, the former Husky baseball star wants the 120-year-old association to help the University do a better job of telling its story and rallying support for the University—particularly in these difficult economic times.
"We are here to complement the University's voice in the community and connect the community to this amazing resource we have right here," he says.