Happy 100th Birthday UW Club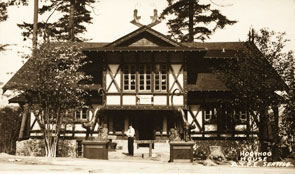 Photo courtesy UW Libraries Special Collections
Hoo-Hoo House, AYPE, Seattle, 1909
The historic University of Washington Club will honor its 100th anniversary with a Sept. 23 centennial celebration on the UW Seattle campus.
Dig a little deeper and one learns that the original occupants of the UW Club's building were the Hoo-Hoo, a lumberman's fraternity. Known then as the "Hoo-Hoo House," the club's massive two-story wood frame house was incorporated in 1909 as part of the Alaska-Yukon-Pacific Exposition's forestry exhibit.
The Hoo-Hoo—members used that term to describe something unusual­—was an odd bunch in many ways. They adopted the black cat as their mascot and gave the number nine considerable meaning in honor of the unlucky cat's legendary nine lives.
Originally, there were nine men on the Hoo-Hoo's board of directors, while meetings were held once a year on the ninth day of the ninth month. Annual dues were 99 cents; initiation fees just $9.99. Today, the International Order of Hoo-Hoo is one of the world's oldest service organizations and will hold its 117th convention in September in Reno, Nev.
The Hoo-Hoo House, which also served as the UW Faculty Club, was dedicated on June 9, 1909, the ninth day of the AYPE. Two huge statues­—black cats, of course—guarded the entrance to the house. Both had green electric eyes that glowed at night.
Photos courtesy UW Libraries Special Collections
The Hoo-Hoo House reception area as it appeared during the Alaska-Yukon-Pacific Exposition (at left), and Hoo-Hoo members posed on the front steps of the California Building at the AYPE on March 7, 1909. Photographer Frank H. Nowell took both shots.
Following the dedication ceremony, the Hoo-Hoo hosted a wedding at the house that was attended by, naturally, 99 persons. As the story goes, the Hoo-Hoo gave the famed "Hoo-Hoo yell" right after the vows, frightening the big black house cat, Bandersnatch, who jumped out of the window and scurried off into the night.
In 1959, the Hoo-Hoo House was torn down and replaced by a Paul Hayden Kirk and Victor Steinbrueck design that won high acclaim for its Northwest take on traditional style. In 2004, members of the UW Faculty Club voted to change its name to University of Washington Club, emphasizing the venue's open-door policy.
With panoramic views of Lake Washington and full-service dining prepared daily by an accomplished executive chef, the UW Club is open to faculty, staff, President's Club members and you—members of the UW Alumni Association. It has nearly 1,700 members.
---
Learn more about the Hoo-Hoo and the Hoo-Hoo House.
Learn more about the UW Club.