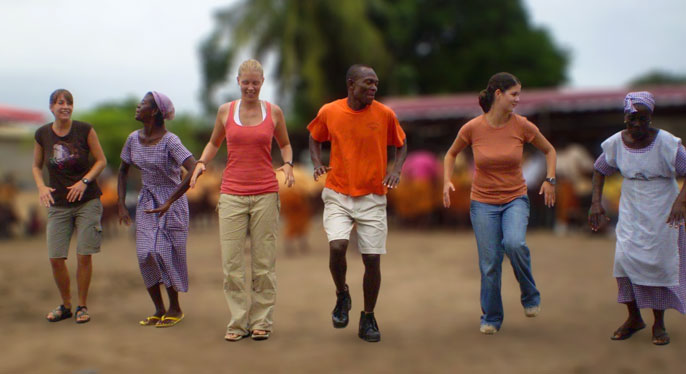 Sammie Rayner, second from right, celebrates with Lumana supporters after distributing the organization's first round of micro loans in the village.
...from Seattle to Africa
Sammie Rayner, '09, didn't have to travel far to find inspiration for an organization she started on the other side of the globe. All it took was a short walk to Kane Hall.
During Rayner's junior year, 2006 Nobel Peace Prize winner Muhammad Yunus came to campus to talk about his experience providing small loans to struggling businesses in Bangladesh. "After hearing him speak, I was inspired, and I thought that this is something I could really do with my degree," says Rayner, who graduated from the Foster School of Business in June.
With support from the Global Business Center at the Foster School, a Mary Gates Leadership Scholarship, fellow students and community partners, Rayner started a microlending organization, Lumana Credit, in Ghana last year.
"Seattle is a great community for microfinance," Rayner says. Seattle-based nonprofit Village Volunteers, which supports community projects in rural Africa and Asia, helped her make connections in Ghana. Rayner spent two months there last year teaching business and providing loans to 30 clients from a $3,000 fund she raised privately. One example of the difference Lumana loans are making: A juice seller is now able to purchase purified water instead of using unclean well water.
In Rayner's senior year, she co-founded the Social Entrepreneurship Club (SEC) at the Foster School, which brings in speakers to discuss how businesses can improve society. SEC's adviser, UW Global Business Center Assistant Director Wren McNally, says she has noticed a shift in the interests of Foster School students: "Students want to do more with their degrees. They want to do something that gives back to society."
Now an inspiration to others, Rayner recently returned to Ghana with five classmates and the goal of expanding Lumana's client base to 200.
To support other Mary Gates Leadership Scholars like Sammie Rayner, visit washington.edu/uaa/mge.